Principe CLXIII
Discover "Príncipe CLXIII": Equestrian Excellence at Yeguada Viñuela!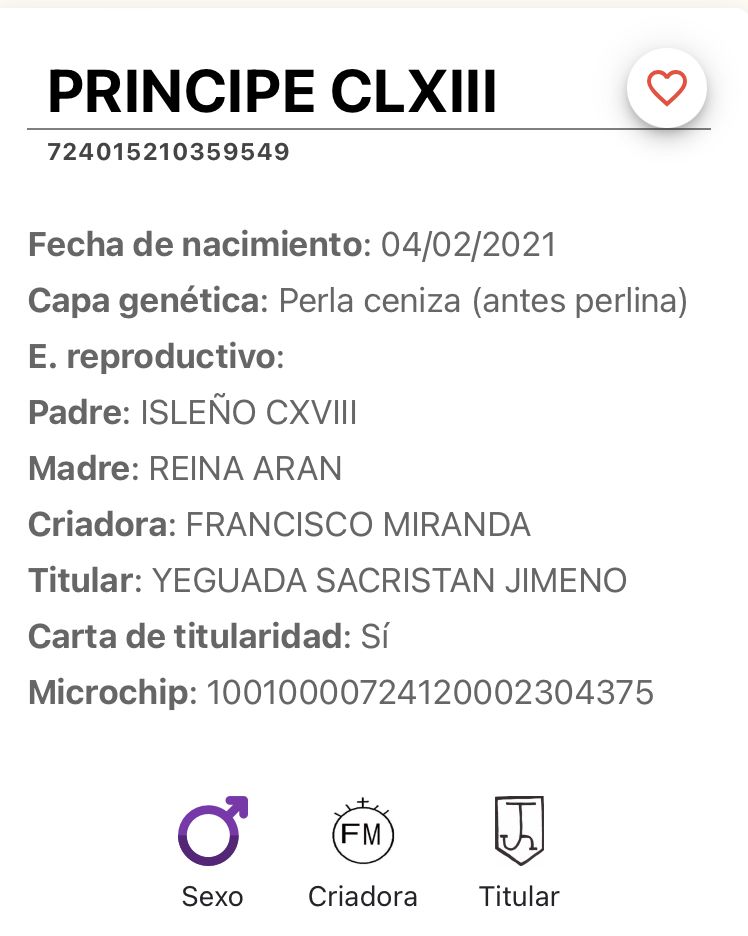 "Príncipe CLXIII" is much more than a foal; he is an equine marvel that dazzles from the first glance. His PEARL ASH coat is like a rare jewel that makes him stand out in any environment. But this is only the beginning of his amazing repertoire of qualities.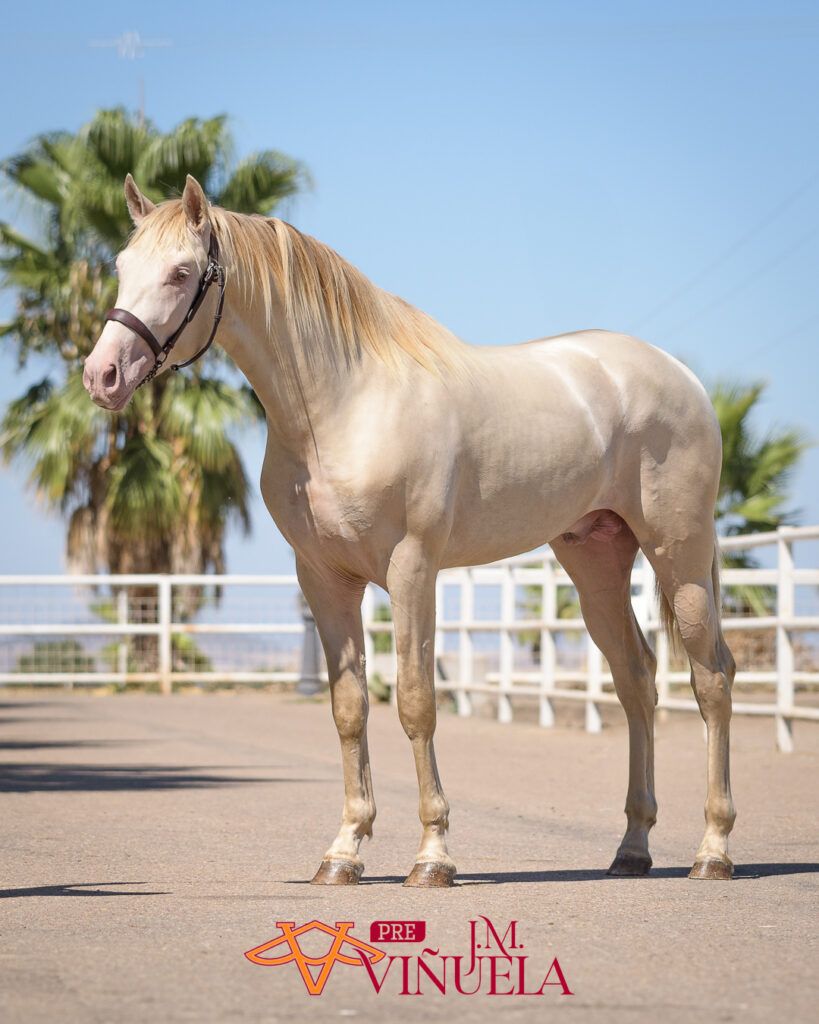 This exceptional specimen is a son of "Isleño CXVIII", a reference in quality in his own right. The genetic heritage that "Príncipe CLXIII" receives from his sire is a seal of excellence that is reflected in every aspect of his being. But the greatness does not stop there; his lineage goes back to the legendary "Soberbio PM", his grandfather, whose prestige in the equestrian world is indisputable.
In his maternal line, "Príncipe CLXIII" has roots in Paco Marti, a guarantee of an exceptionally valuable genetic heritage. Every element of his breed is a statement of quality and prestige in Spanish horse breeding.

But what really amazes in "Prince CLXIII" are his extraordinary movements. Every step he takes is a work of art in motion, an exhibition of grace and dexterity that places him at the top of the equestrian promises of the future. At Yeguada Viñuela, we are proud to present "Príncipe CLXIII" as a clear example of our commitment to excellence in the breeding of purebred Spanish horses. His potential is unlimited, whether in competitions, breeding or as an equestrian companion. Don't miss the opportunity to have "Príncipe CLXIII" in your stud or as part of your team, contact us and discover the equestrian excellence personified in "Príncipe CLXIII"!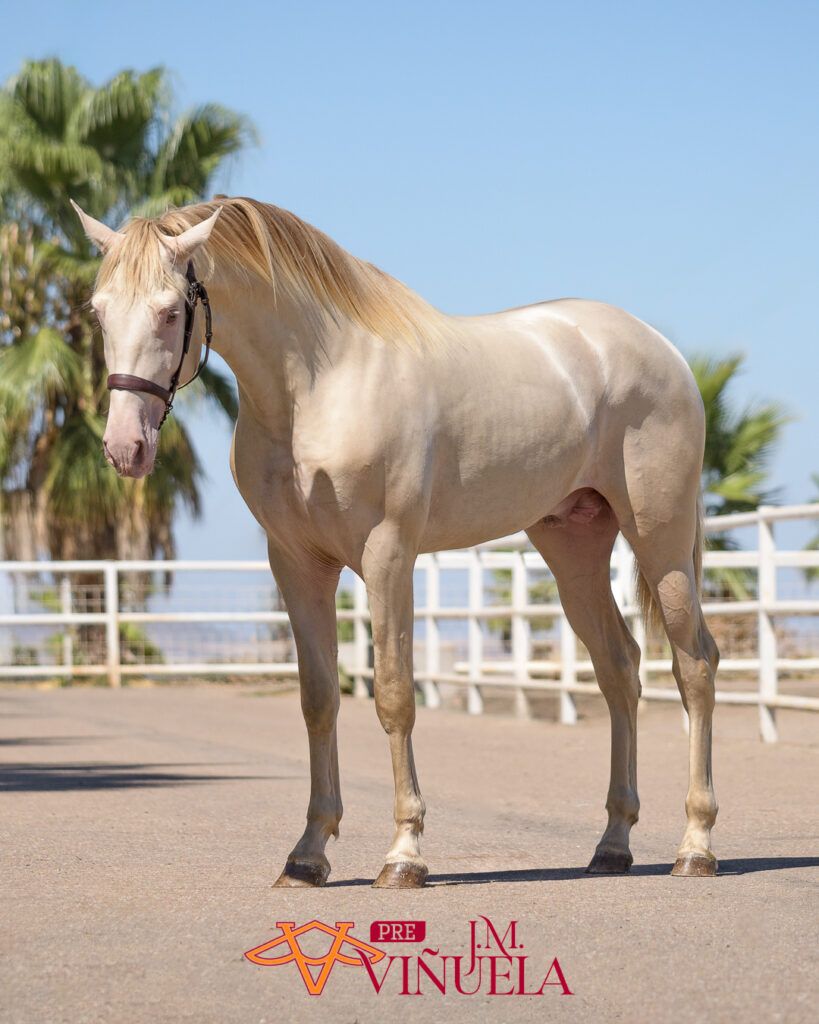 We accept reservations and ship worldwide, we take care of all documentation and arrangements.
We attend exclusively to our clients in a personalized way.
Send 𝗪𝗵𝗮𝘁𝘀𝗔𝗽𝗽 +𝟯𝟰 𝟲𝟯𝟱 𝟲𝟲𝟭𝟬 𝟯𝟮𝟭para any information about specimens or prices, we will be glad to help you.
🏆 🐴 𝐠𝐮𝐚𝐫𝐚𝐧𝐭𝐞𝐞 𝐨𝐟 𝐪𝐮𝐚𝐥𝐢𝐭𝐲, 𝐩𝐫𝐨𝐟𝐞𝐬𝐬𝐢𝐨𝐧𝐚𝐥𝐢𝐬𝐦 𝐚𝐧𝐝 𝐩𝐫𝐞𝐬𝐭𝐢𝐠𝐞. 𝐇𝐮𝐧𝐝𝐫𝐞𝐝𝐬 𝐨𝐟 𝐜𝐮𝐬𝐭𝐨𝐦𝐞𝐫𝐬 𝐚𝐫𝐨𝐮𝐧𝐝 𝐭𝐡𝐞 𝐰𝐨𝐫𝐥𝐝 𝐞𝐧𝐝𝐨𝐫𝐬𝐞 𝐮𝐬 ⭐⭐⭐⭐⭐
📸 All images by www.fotografiaequina.es