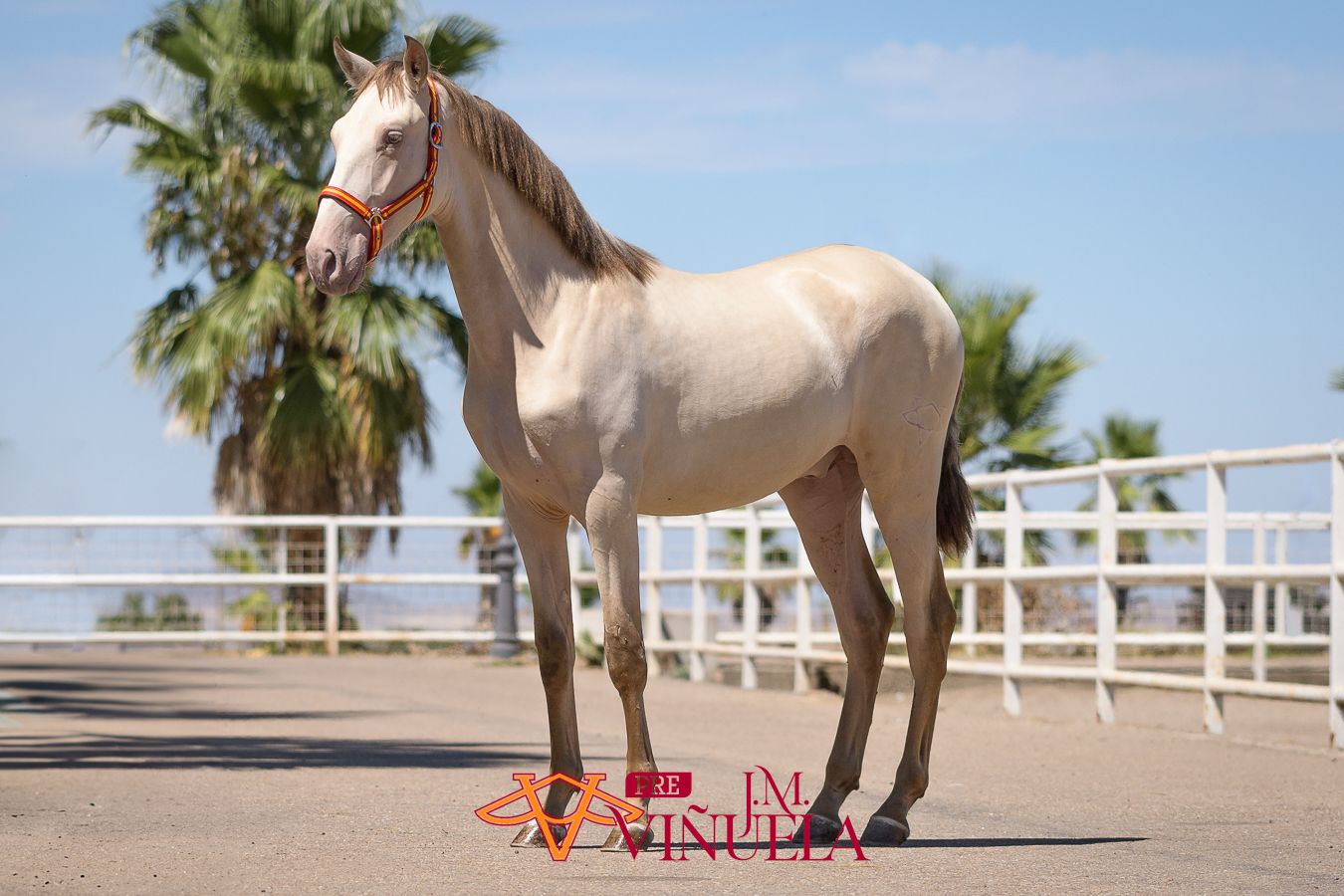 Ringo de Viñuela
Today we are pleased to present Ringo de Viñuela, an extraordinary colt with an impressive morphology, an enviable pedigree and a Baya Perla coat that makes him truly exceptional.
Ringo is a son of Ringo AC and Isis de Mara, and was born in our stud on 02/14/2022. His magnificent character and his morphology that borders on perfection distinguish him from the very first moment. He is also a brother to Cataleya COB Viñuela, which reaffirms his genetic quality.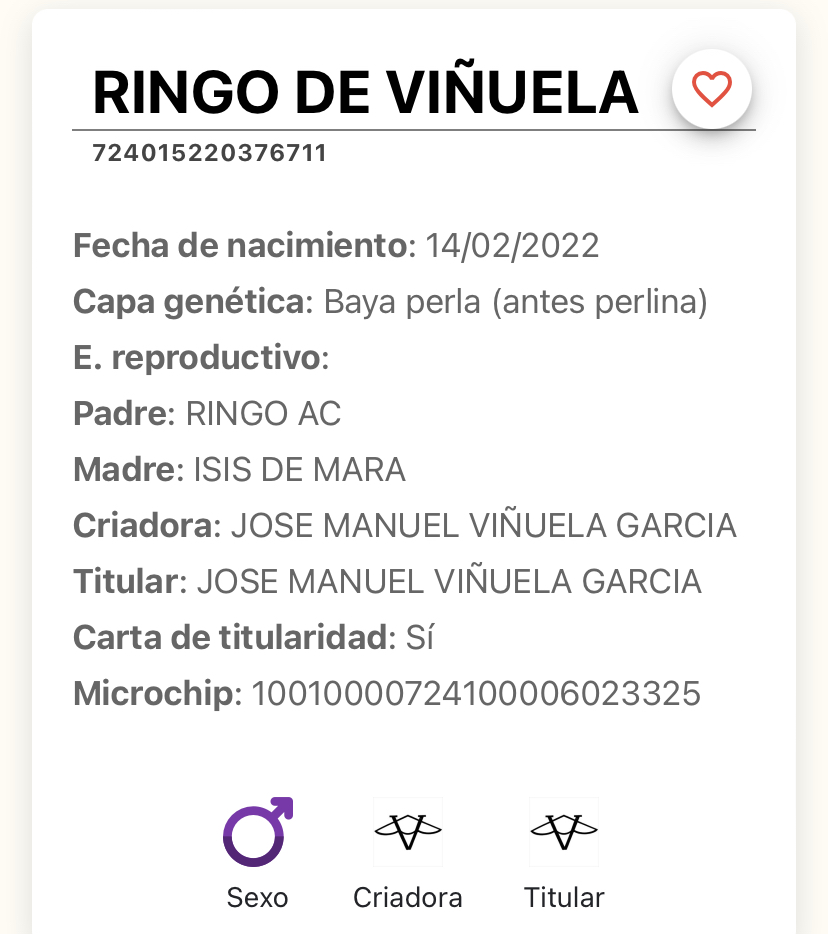 In his family tree we find notable ancestors who have left their mark in horse breeding. This enviable ancestry is an indication of the quality that Ringo possesses and transmits.
However, what really captivates Ringo is his beautiful Pearl Berry coat. This unique color combination gives him a captivating appearance. His mane, tail and darkened limbs contrast beautifully with the rest of his body, making him an exceptionally beautiful foal.
At our stud, we are passionately dedicated to breeding horses of the highest quality, and Ringo is a clear example of our commitment. We take care of every detail to ensure that our horses develop optimally and enjoy excellent health.
Ringo de Viñuela is the perfect choice. His impressive morphology, combined with his outstanding ancestry and beautiful Baya Perla coat, make him a one of a kind colt.
Don't miss the opportunity to have Ringo in your life. Contact us today for more information about this exceptional colt. We will be happy to answer all your questions and assist you in the process of acquiring your next equine companion. Discover excellence at our stud with Ringo de Viñuela!
We accept reservations and ship worldwide, we take care of all the documentation and arrangements.
We attend exclusively to our clients in a personalized way.
Send 𝗪𝗵𝗮𝘁𝘀𝗔𝗽𝗽 +𝟯𝟰 𝟲𝟯𝟱 𝟲𝟲𝟭𝟬 𝟯𝟮𝟭para any information about specimens or prices, we will be glad to help you.
🏆 🐴 𝐠𝐮𝐚𝐫𝐚𝐧𝐭𝐞𝐞 𝐨𝐟 𝐪𝐮𝐚𝐥𝐢𝐭𝐲, 𝐩𝐫𝐨𝐟𝐞𝐬𝐬𝐢𝐨𝐧𝐚𝐥𝐢𝐬𝐦 𝐚𝐧𝐝 𝐩𝐫𝐞𝐬𝐭𝐢𝐠𝐞. 𝐇𝐮𝐧𝐝𝐫𝐞𝐝𝐬 𝐨𝐟 𝐜𝐮𝐬𝐭𝐨𝐦𝐞𝐫𝐬 𝐚𝐫𝐨𝐮𝐧𝐝 𝐭𝐡𝐞 𝐰𝐨𝐫𝐥𝐝 𝐞𝐧𝐝𝐨𝐫𝐬𝐞 𝐮𝐬 ⭐⭐⭐⭐⭐
📸 All images by www.fotografiaequina.es