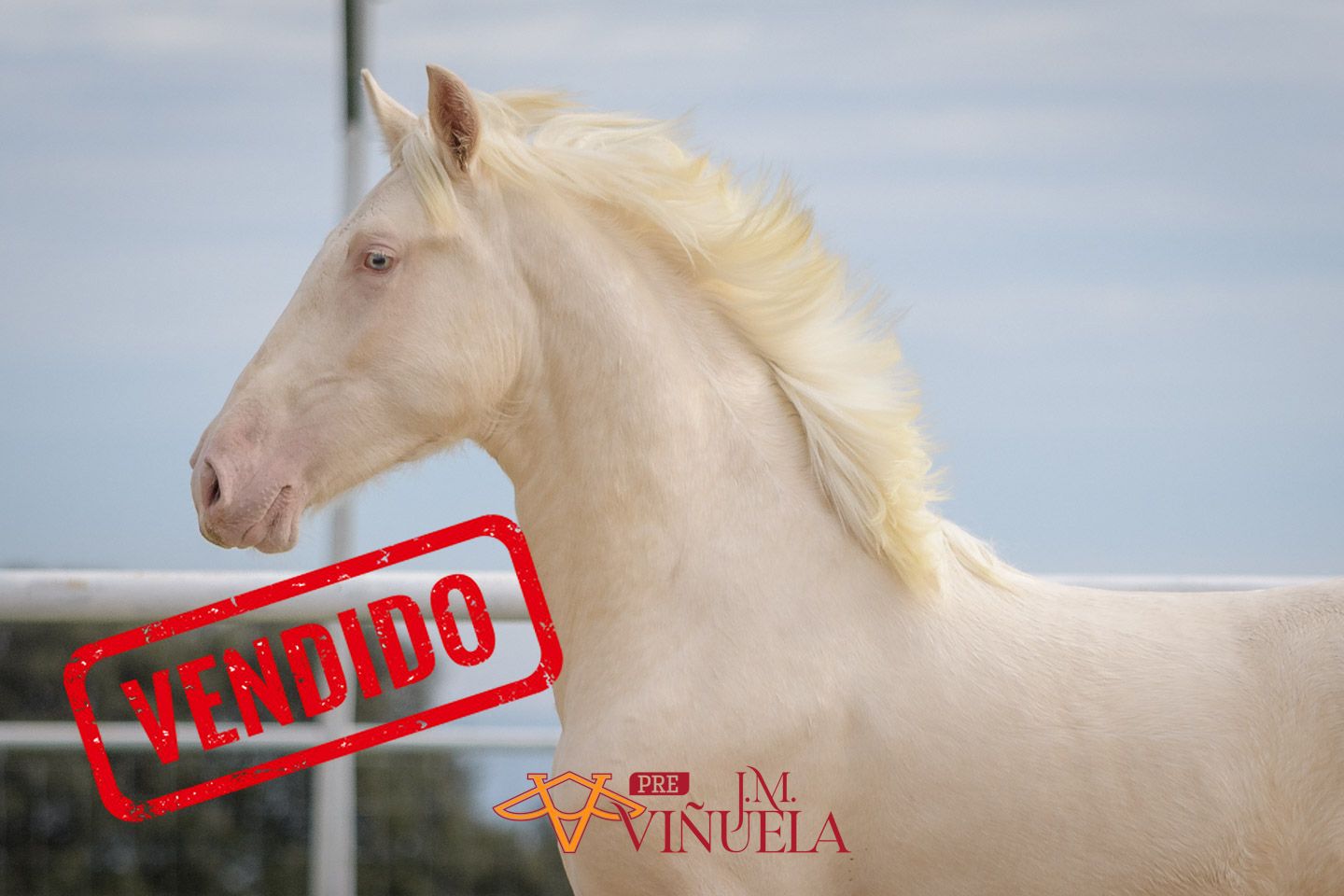 Bartolito (sold)
Today we present "Bartolito" a beautiful Cremello colt born on 02/25/2021.
"Bartolito" has a class and elegance worthy of seeing, he fills the track with his movements, he becomes lord and master of the terrain and he is in love with the way he moves.
Her morphology is marvelous, with an enormous quality, her face and neck stand out a lot.
Its Cremello coating is perfect, with no stains and a beautiful, uniform color.
We could talk at length about its origins, which are fully guaranteed, but we will stop at its father "Revoltoso XXIX", a reference in our country.
On his mother's side, his grandfather "Cancun Roc" stands out, a much loved horse in Costa Rica where he made the history of the breed, or his great-grandfather "Ebano AP", another historical and reference horse.

Bartolito does not leave indifferent, he is a magnificent animal that will surely make his next owner very happy.
We accept reservations and ship worldwide, we take care of all documentation and arrangements.
We attend exclusively to our clients in a personalized way.
Send 𝗪𝗵𝗮𝘁𝘀𝗔𝗽𝗽𝗽 for any information about specimens or prices, we will be glad to help you.
🏆 🐴 𝐑𝐞𝐣𝐞𝐜𝐭 𝐢𝐦𝐢𝐭𝐚𝐭𝐢𝐨𝐧𝐬, 𝐰𝐞 𝐚𝐫𝐞 𝐚𝐠𝐮𝐚𝐫𝐚𝐧𝐭𝐞𝐞 𝐨𝐟 𝐪𝐮𝐚𝐥𝐢𝐭𝐲, 𝐩𝐫𝐨𝐟𝐞𝐬𝐬𝐢𝐨𝐧𝐚𝐥𝐢𝐬𝐦 𝐚𝐧𝐝 𝐩𝐫𝐞𝐬𝐭𝐢𝐠𝐞. 𝐇𝐮𝐧𝐝𝐫𝐞𝐝𝐬 𝐨𝐟 𝐜𝐮𝐬𝐭𝐨𝐦𝐞𝐫𝐬 𝐚𝐫𝐨𝐮𝐧𝐝 𝐭𝐡𝐞 𝐰𝐨𝐫𝐥𝐝 𝐞𝐧𝐝𝐨𝐫𝐬𝐞 𝐮𝐬 ⭐⭐⭐⭐⭐
📸 All images by www.fotografiaequina.es