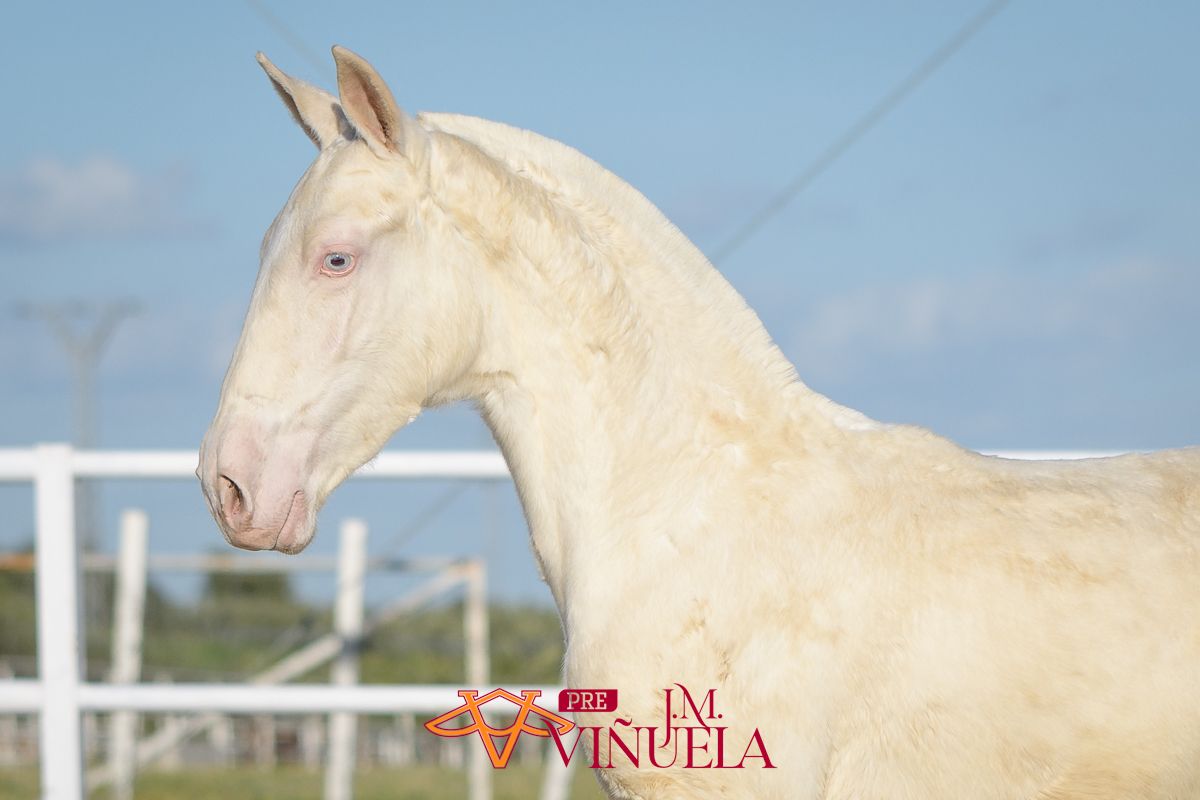 Soñador de Viñuela II
Soñador de Viñuela II is a purebred Spanish colt that has been bred with love and care in our stud. Since his birth 02/08/2022 he has received all the care necessary for him to grow healthy and strong, and this is reflected in his imposing morphology and his elegant and powerful movements.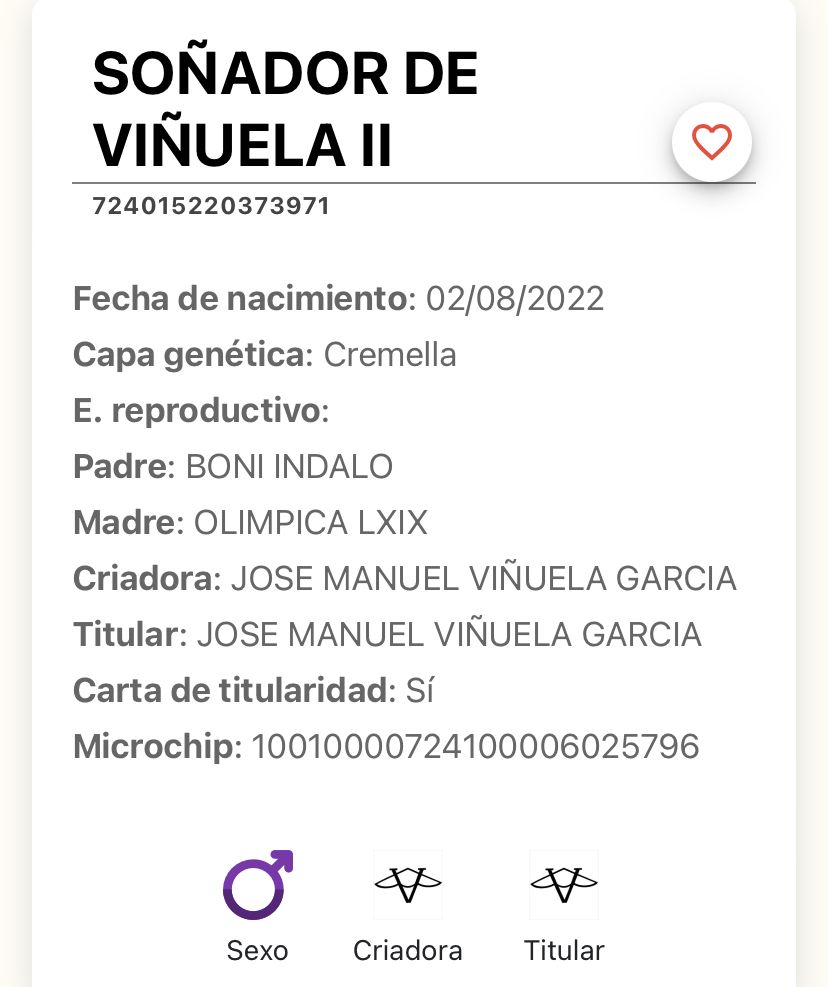 As mentioned above, Soñador de Viñuela II is the result of a careful selection of baroque line horses, which means that he possesses all the characteristics that define this line of horses. Baroque horses are characterized by being robust, muscular and strong, which makes them exceptional specimens for dressage and for any other equestrian sport that requires great physical strength.
In addition, Viñuela Dreamer II has a Cremello coat, which makes him even more special. The Cremello coat is a dilute coat characterized by a cream-colored coat, blue eyes and pink skin. This coat is highly coveted in the equestrian world, as it is quite rare and brings a touch of elegance and distinction to the horses that own it.
On the other hand, Soñador de Viñuela II has an exceptional line. His dam, Olímpica LXIX, is one of our best broodmares, and his sire, Boni Indalo, is a great stallion who has left his mark in the world of purebred Spanish horse breeding. This background guarantees that Soñador de Viñuela II is a colt with exceptional genetics, which makes him a stallion with great breeding potential.

In short, if you are looking for a purebred Spanish colt with a dilute coat, impressive morphology and incredible movements, Soñador de Viñuela II is the perfect candidate. Do not hesitate to contact us for more information about this exceptional specimen. We will be happy to answer all your questions and help you in everything you need to take home the horse of your dreams.
We accept reservations and ship worldwide, we take care of all documentation and arrangements.
We attend exclusively to our clients in a personalized way.
Send 𝗪𝗵𝗮𝘁𝘀𝗔𝗽𝗽 +𝟯𝟰 𝟲𝟯𝟱 𝟲𝟲𝟭𝟬 𝟯𝟮𝟭para any information about specimens or prices, we will be glad to help you.
🏆 🐴 𝐠𝐮𝐚𝐫𝐚𝐧𝐭𝐞𝐞 𝐨𝐟 𝐪𝐮𝐚𝐥𝐢𝐭𝐲, 𝐩𝐫𝐨𝐟𝐞𝐬𝐬𝐢𝐨𝐧𝐚𝐥𝐢𝐬𝐦 𝐚𝐧𝐝 𝐩𝐫𝐞𝐬𝐭𝐢𝐠𝐞. 𝐇𝐮𝐧𝐝𝐫𝐞𝐝𝐬 𝐨𝐟 𝐜𝐮𝐬𝐭𝐨𝐦𝐞𝐫𝐬 𝐚𝐫𝐨𝐮𝐧𝐝 𝐭𝐡𝐞 𝐰𝐨𝐫𝐥𝐝 𝐞𝐧𝐝𝐨𝐫𝐬𝐞 𝐮𝐬 ⭐⭐⭐⭐⭐
📸 All images by www.fotografiaequina.es