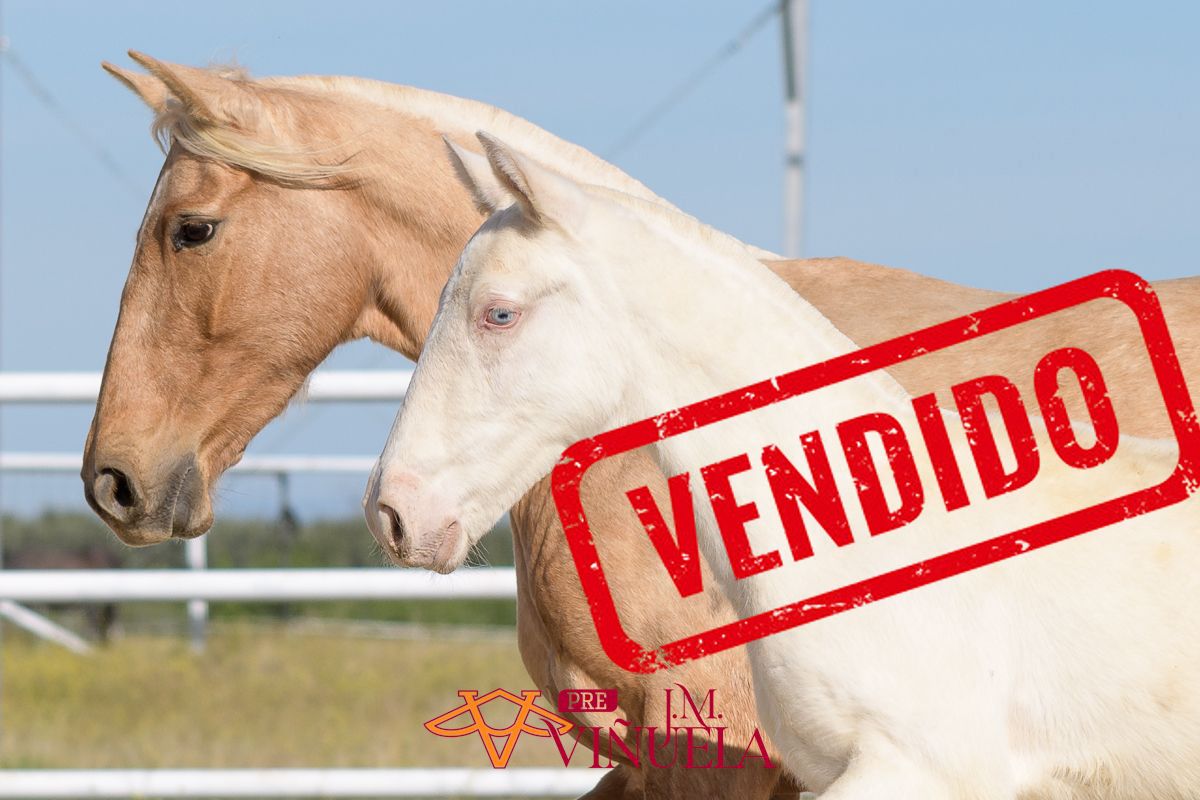 Nevada CLXXXIII and its colt 2023 (Sold)
We present "Nevada CLXXXIII", one of our Palomina broodmares, who year after year surprises us with exceptional foals. We have already talked about her on several occasions on our website.
In these pictures you can see "Nevada CLXXXIII" with this year's foal, an impressive Cremello foal, son of our stallion "Boni Indalo".
This colt is a clear example of how the values of his parents have been perfectly transmitted, both in morphology, structure and quality of movements. His face and neck are perfect, very much in the breed, and we are sure that this colt will be a great champion.
In our stud farm we always bet for quality and excellence, and for this we carry out genetic studies to decide which are the best crosses to guarantee exceptional results. Our goal is to give our clients the best of the best in purebred Spanish horses, with a special focus on dilute coats.
Our horses and mares are bred with the best care, feeding and veterinary attention to ensure their health and well-being. We care about the physical and mental development of each animal, which allows us to guarantee that we deliver the best quality horses. The breeding in freedom in our farms of Dehesa Extremeña, guarantees the best possible development for our specimens.
In our selection of horses for sale, you will find a variety of horses and mares of different coats and ages, but always with the seal of quality that characterizes us. We invite you to visit our facilities and get to know our horses closely, so you can find the one that best suits your needs.
Do not hesitate to contact us for more information and personalized advice. We will be happy to help you find your perfect companion.
We accept reservations and ship worldwide, we take care of all the documentation and paperwork..
We attend exclusively to our clients in a personalized way.
Send 𝗪𝗵𝗮𝘁𝘀𝗔𝗽𝗽 +𝟯𝟰 𝟲𝟯𝟱 𝟲𝟭𝟬 𝟯𝟮𝟭for any information about specimens or prices, we will be pleased to help you.
🏆 🐴 𝐠𝐮𝐚𝐫𝐚𝐧𝐭𝐞𝐞 𝐨𝐟 𝐪𝐮𝐚𝐥𝐢𝐭𝐲, 𝐩𝐫𝐨𝐟𝐞𝐬𝐬𝐢𝐨𝐧𝐚𝐥𝐢𝐬𝐦 𝐚𝐧𝐝 𝐩𝐫𝐞𝐬𝐭𝐢𝐠𝐞. 𝐇𝐮𝐧𝐝𝐫𝐞𝐝𝐬 𝐨𝐟 𝐜𝐮𝐬𝐭𝐨𝐦𝐞𝐫𝐬 𝐚𝐫𝐨𝐮𝐧𝐝 𝐭𝐡𝐞 𝐰𝐨𝐫𝐥𝐝 𝐞𝐧𝐝𝐨𝐫𝐬𝐞 𝐮𝐬 ⭐⭐⭐⭐⭐
📸 All images by www.fotografiaequina.es