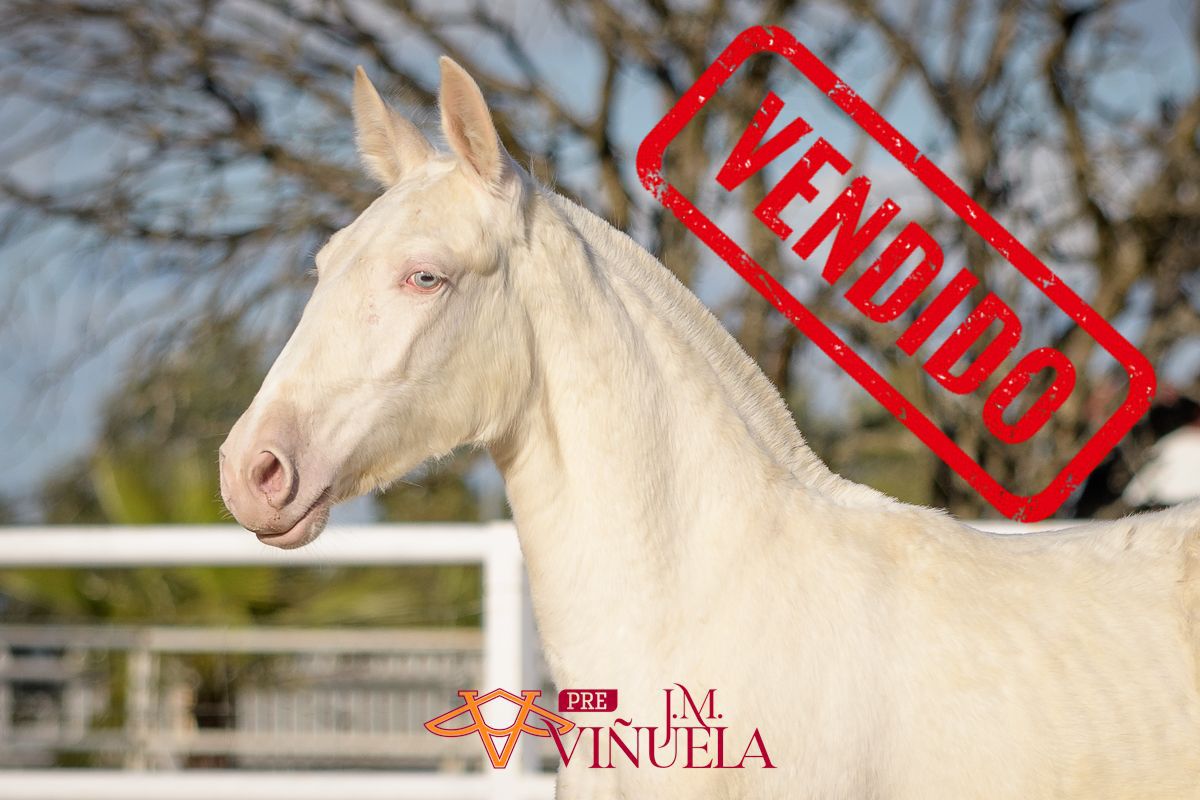 Jabata de Viñuela (Sold)
At our stud, we are delighted to present Jabata de Viñuela, an exceptional filly born and bred under our care. This impressive filly is a Cremello layer, and is a daughter of our baroque stallion, BONI Indalo, who has an excellent reputation in the world of horse breeding..
Jabata de Viñuela has a spectacular morphology, highlighting its balanced structure and the elegance of its movements. As passionate horse breeders, we always make sure that our animals have the best attention and care, so that they can develop their full physical and mental potential.
As a result of our commitment to quality, Jabata de Viñuela is a filly that reflects all the hard work and dedication we put into our stud. We are proud to say that we are producing some of the best horses in Cremello coat in the market, thanks to our rigorous selection process of stallions and mares for breeding.
We accept reservations and ship worldwide, we take care of all the documentation and arrangements.
We attend exclusively to our clients in a personalized way.
Send 𝗪𝗵𝗮𝘁𝘀𝗔𝗽𝗽 +𝟯𝟰 𝟲𝟯𝟱 𝟲𝟲𝟭𝟬 𝟯𝟮𝟭para any information about specimens or prices, we will be glad to help you.
🏆 🐴 𝐠𝐮𝐚𝐫𝐚𝐧𝐭𝐞𝐞 𝐨𝐟 𝐪𝐮𝐚𝐥𝐢𝐭𝐲, 𝐩𝐫𝐨𝐟𝐞𝐬𝐬𝐢𝐨𝐧𝐚𝐥𝐢𝐬𝐦 𝐚𝐧𝐝 𝐩𝐫𝐞𝐬𝐭𝐢𝐠𝐞. 𝐇𝐮𝐧𝐝𝐫𝐞𝐝𝐬 𝐨𝐟 𝐜𝐮𝐬𝐭𝐨𝐦𝐞𝐫𝐬 𝐚𝐫𝐨𝐮𝐧𝐝 𝐭𝐡𝐞 𝐰𝐨𝐫𝐥𝐝 𝐞𝐧𝐝𝐨𝐫𝐬𝐞 𝐮𝐬 ⭐⭐⭐⭐⭐
📸 All images by www.fotografiaequina.es