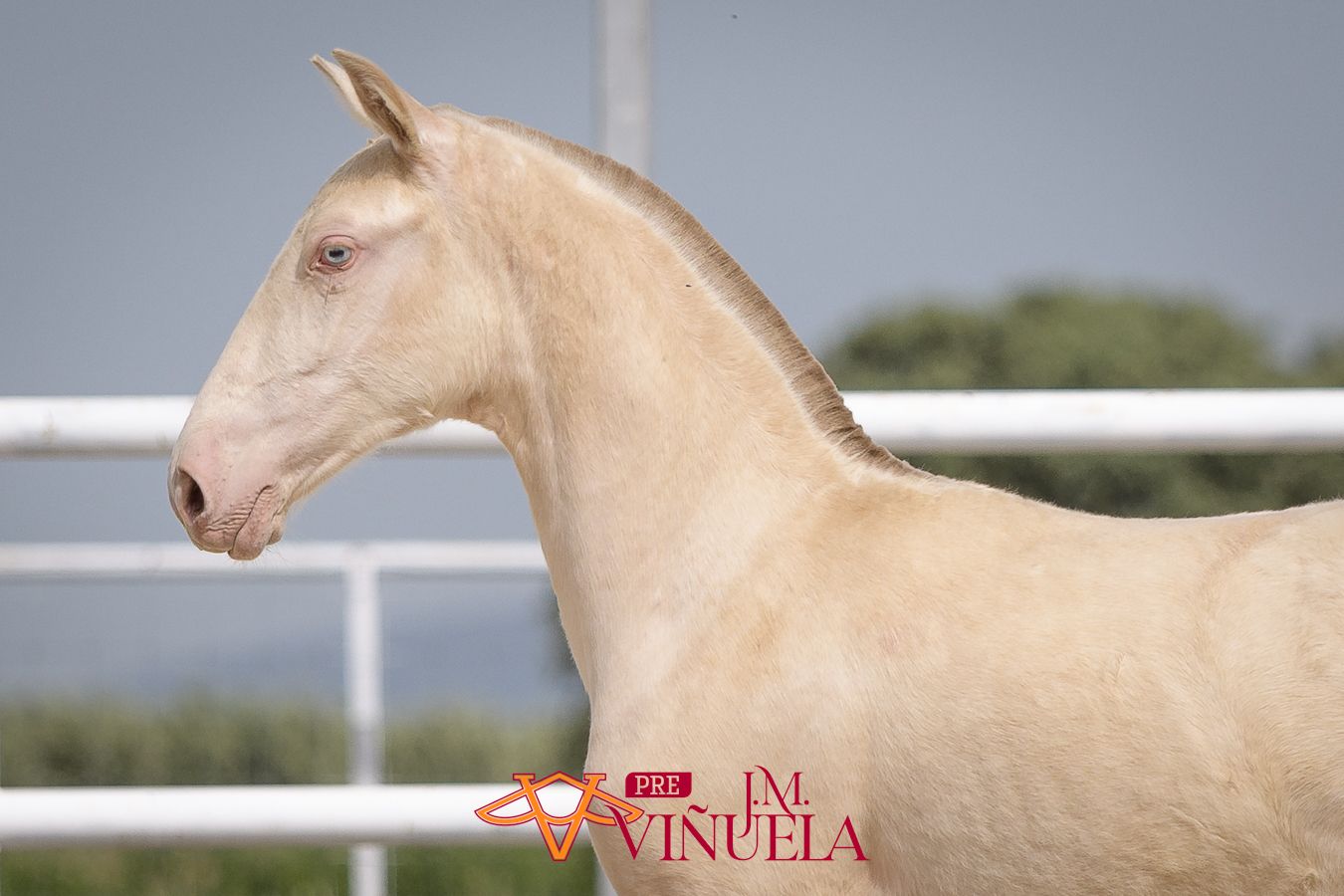 Cecilia de Viñuela
At our stud, we are proud to present "Cecilia de Viñuela", a filly that represents excellence in the breeding of purebred Spanish horses. Born and bred in our stud.
Since its birth, in our stud, we have paid careful attention to every detail of its development and we have applied our genetic selection system to guarantee its quality.
"Cecilia de Viñuela" is an example of the excellence that can be achieved in the breeding of purebred Spanish horses. She has a perfect morphology, with a profile and structure that are the image of what a horse of this breed should be. In addition, his movements are elegant and fluid, which reflects his great quality and his great potential for any stud farm.
Her dam, "Cecilia V", has already demonstrated her quality as a breeding mare having given birth to other outstanding foals such as "Cecilio ME", who is also at our California friend ranch "Rancho Los Alvarez".
"Cecilia V" is an exceptional mare and has passed on all her qualities to her daughter, "Cecilia de Viñuela".
In addition, "Cecilia de Viñuela" is a daughter of our stallion "BONI Indalo", a stallion that has been carefully selected for his quality and bloodline. His genetic influence can be seen in the quality of his offspring.

At our stud, we not only focus on genetic selection, but we also pay a lot of attention to the care and welfare of our horses. We breed our horses in freedom on our farms in Dehesa Extremeña, which allows them to grow and develop naturally in an ideal environment for their health and well-being.
If you are interested in acquiring a high quality purebred Spanish horse, please do not hesitate to contact us. We will be happy to provide you with more information about our stud and our horses, including "Cecilia de Viñuela", a filly of great quality and beauty that is a testimony of our great work in the breeding of purebred Spanish horses.
We accept reservations and ship worldwide, we take care of all the documentation and arrangements.
We attend exclusively to our clients in a personalized way.
Send 𝗪𝗵𝗮𝘁𝘀𝗔𝗽𝗽 +𝟯𝟰 𝟲𝟯𝟱 𝟲𝟲𝟭𝟬 𝟯𝟮𝟭para any information about specimens or prices, we will be glad to help you.
🏆 🐴 𝗦𝗼𝗺𝗼𝘀 𝗴𝗮𝗿𝗮𝗻𝘁𝗶𝗮 𝗱𝗲 𝗰𝗮𝗹𝗶𝗱𝗮𝗱, 𝗽𝗿𝗲𝘀𝘁𝗶𝗴𝗶𝗼 𝘆 𝗽𝗿𝗼𝗳𝗲𝘀𝗶𝗼𝗻𝗮𝗹𝗶𝗱𝗮𝗱🐴🏆
𝗖𝗶𝗲𝗻𝘁𝗼𝘀 𝗱𝗲 𝗰𝗹𝗶𝗲𝗻𝘁𝗲𝘀 𝘀𝗮𝘁𝗶𝘀𝗳𝗲𝗰𝗵𝗼𝘀 𝗻𝗼𝘀 𝗮𝘃𝗮𝗹𝗮𝗻 𝗲𝗻 𝘁𝗼𝗱𝗼 𝗲𝗹 𝗺𝘂𝗻𝗱𝗼⭐⭐⭐⭐⭐
📸 All images by www.fotografiaequina.es