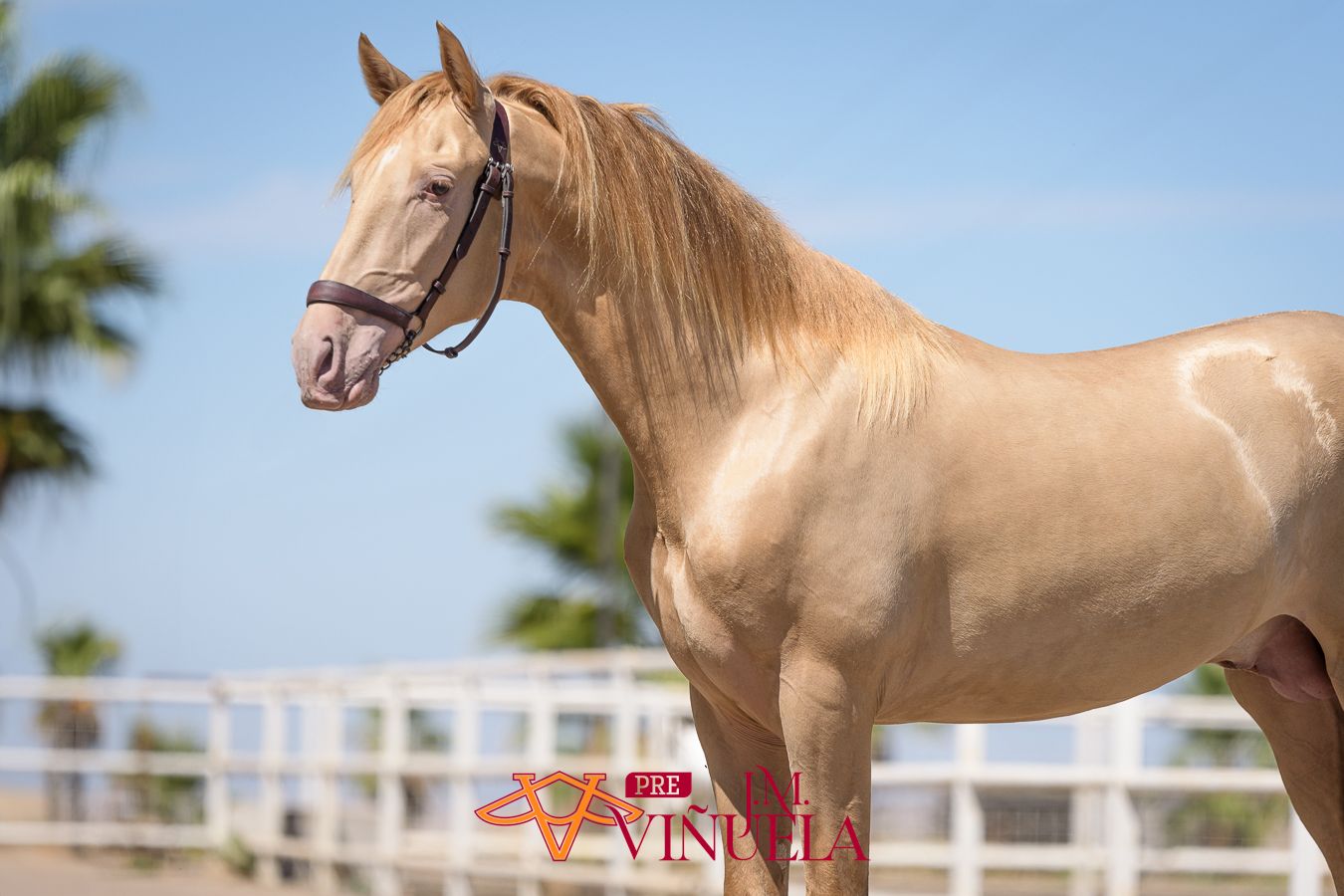 Capricho GP Viñuela
Welcome to the presentation of "Capricho GP Viñuela", a colt that embodies equestrian excellence at Yeguada Viñuela.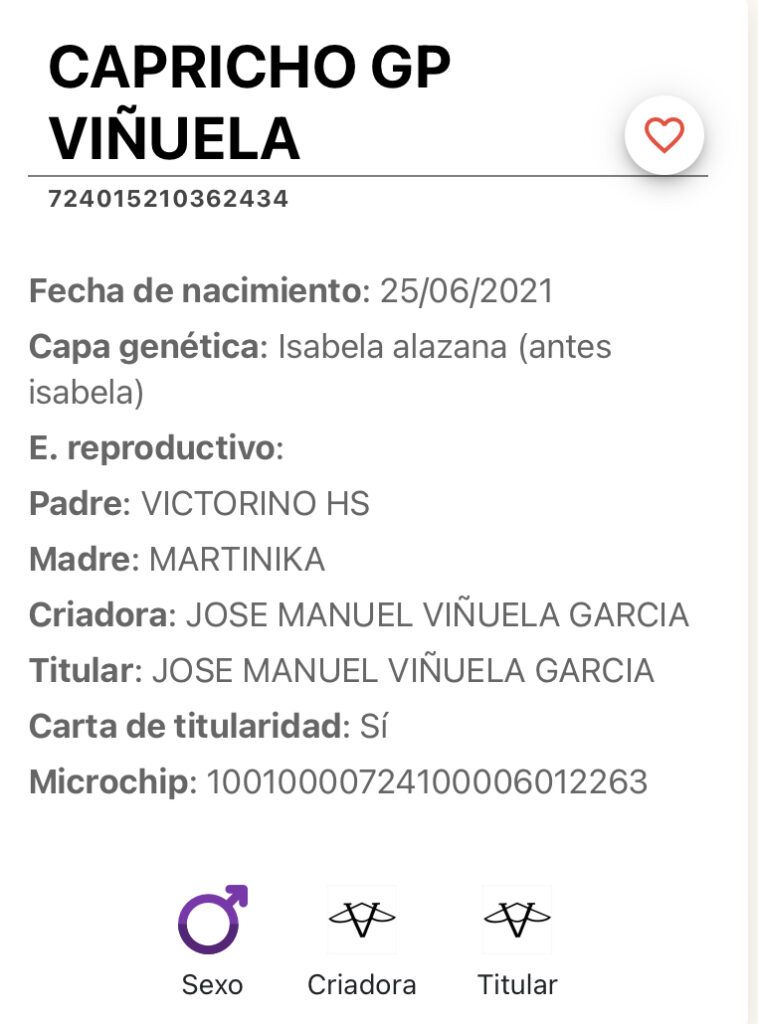 This colt born in our stud is a source of pride and promises a bright future. His exclusive ISABELO ALAZAN coat is a real jewel in the equestrian world, highlighting his beauty and uniqueness in every step he takes.
The union of Victorino HS and Martinika, his renowned parents, brings a perfect balance of qualities. On the one hand, the nobility and distinction of Victorino HS, and on the other, the elegance and class of Martinika. This unique combination promises a future full of potential and success in the equestrian world.
From his first steps, "Capricho GP Viñuela" has shown an impressive determination and a friendly character that makes him stand out. His ISABELO ALAZAN coat, besides being exclusive, is a visual testimony of his first class genetic heritage.
At Yeguada Viñuela, we are proud to present foals such as "Capricho GP Viñuela", who epitomize our commitment to breeding exceptional purebred Spanish horses. This colt is much more than a promise; he is an investment in the future of quality horsemanship.
Don't miss the opportunity to meet "Capricho GP Viñuela" and explore how he can be part of your equestrian project. Contact us for more information about this exceptional horse and how you can be part of his exciting future in the equestrian world.
We accept reservations and ship worldwide, we take care of all documentation and arrangements.
We attend exclusively to our clients in a personalized way.
Send 𝗪𝗵𝗮𝘁𝘀𝗔𝗽𝗽 +𝟯𝟰 𝟲𝟯𝟱 𝟲𝟲𝟭𝟬 𝟯𝟮𝟭para any information about specimens or prices, we will be glad to help you.
🏆 🐴 𝐠𝐮𝐚𝐫𝐚𝐧𝐭𝐞𝐞 𝐨𝐟 𝐪𝐮𝐚𝐥𝐢𝐭𝐲, 𝐩𝐫𝐨𝐟𝐞𝐬𝐬𝐢𝐨𝐧𝐚𝐥𝐢𝐬𝐦 𝐚𝐧𝐝 𝐩𝐫𝐞𝐬𝐭𝐢𝐠𝐞. 𝐇𝐮𝐧𝐝𝐫𝐞𝐝𝐬 𝐨𝐟 𝐜𝐮𝐬𝐭𝐨𝐦𝐞𝐫𝐬 𝐚𝐫𝐨𝐮𝐧𝐝 𝐭𝐡𝐞 𝐰𝐨𝐫𝐥𝐝 𝐞𝐧𝐝𝐨𝐫𝐬𝐞 𝐮𝐬 ⭐⭐⭐⭐⭐
📸 All images by www.fotografiaequina.es