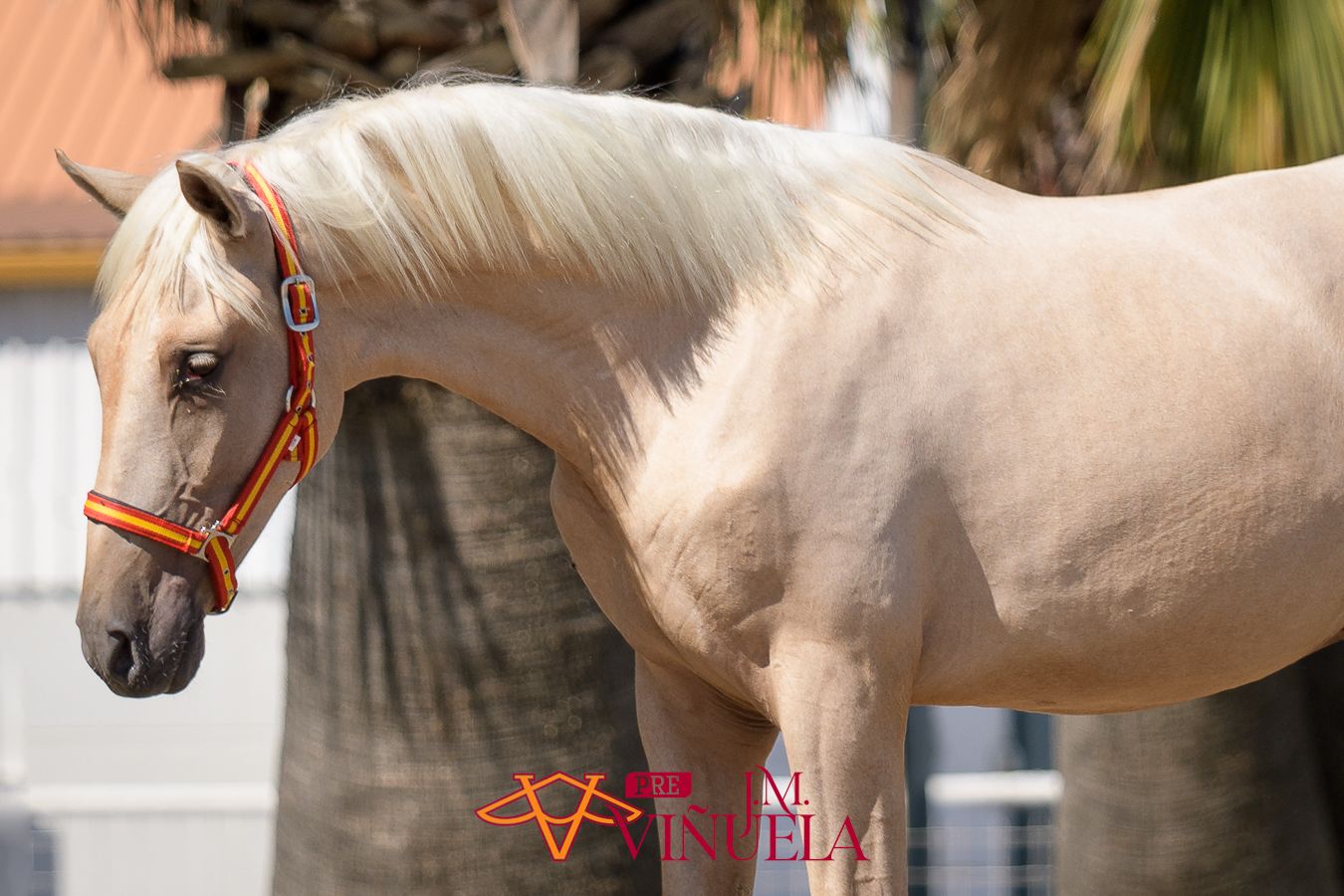 Príncipe de Prieto
Introducing "Príncipe de Prieto", a purebred Spanish stallion that stands out for his spectacular palomino coat. This young prodigy is a son of our distinguished Barroco stallion, BONI Indalo, whose great physique and beauty are undeniable, characteristics that "Príncipe de Prieto" inherits and promises to take to the next level.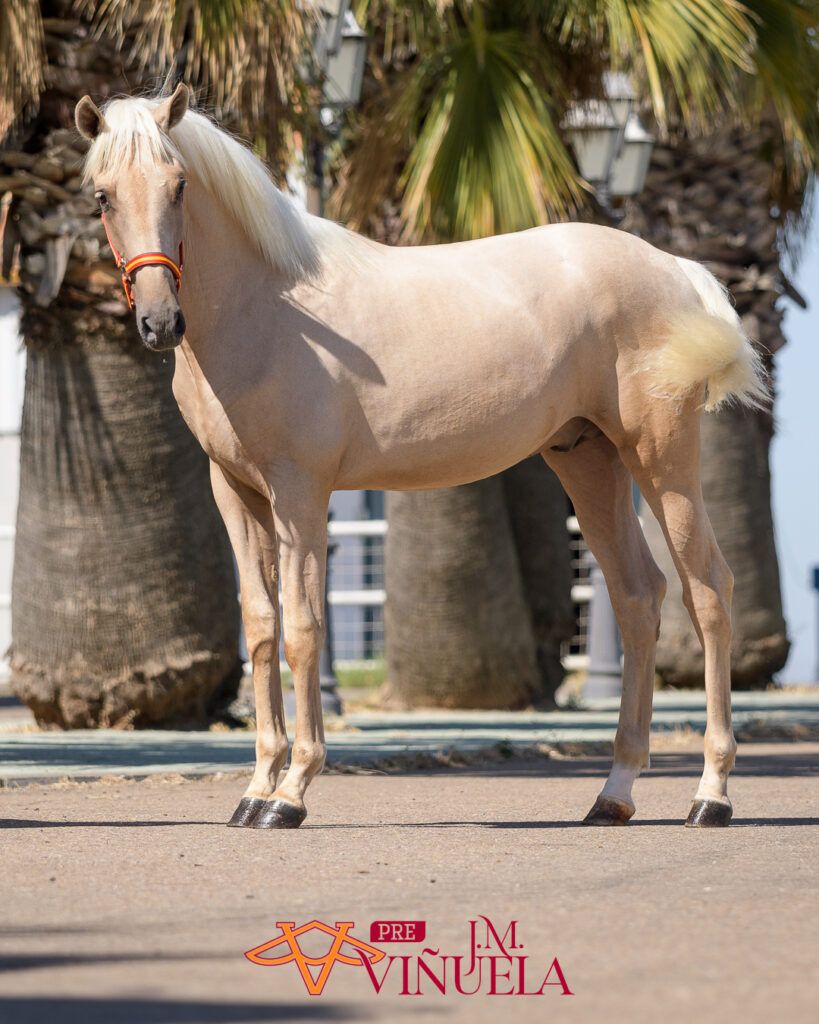 The genealogy of "Príncipe de Prieto" is a real treasure. In his lineage, the presence of "Evento", a renowned horse recognized throughout the equine world, stands out. This illustrious ancestor is a testimony to the genetic quality that flows in the veins of this promising colt.
Despite his young age, "Príncipe de Prieto" already exhibits exceptional potential. His impeccable morphology, beauty and friendly character are only the beginning of his promising journey in the equestrian world.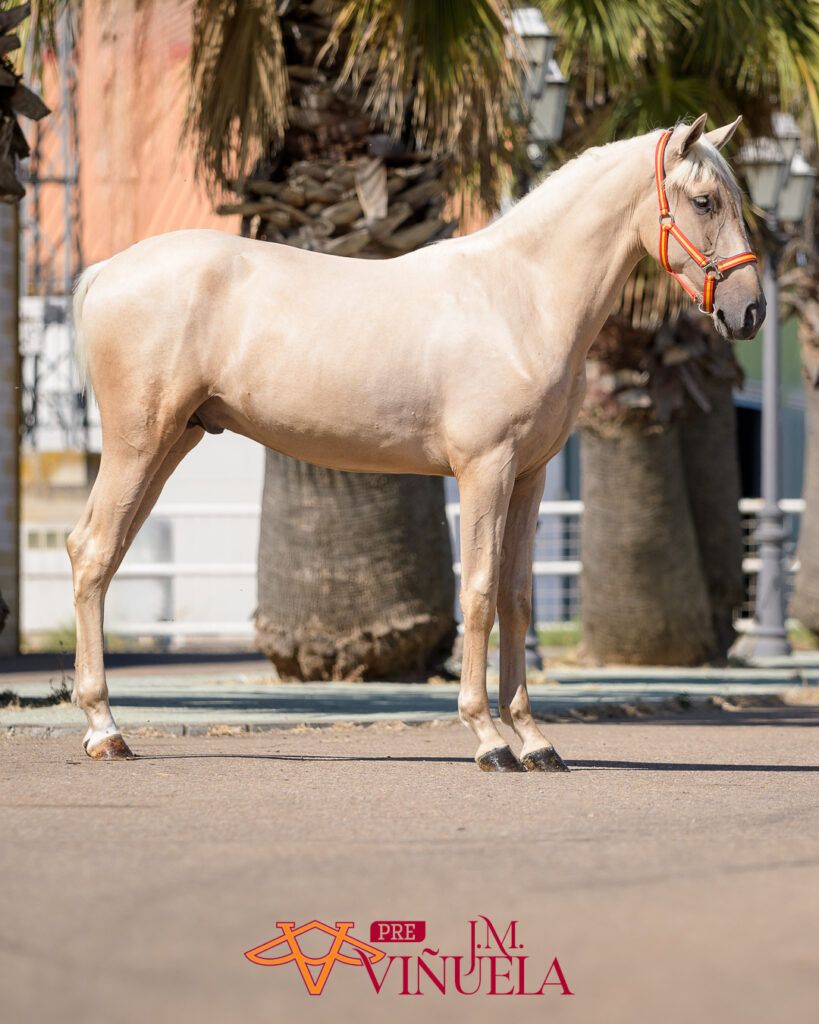 At Yeguada Viñuela, we are committed to breeding horses of the highest quality, and "Príncipe de Prieto" is a perfect example of our commitment to excellence. If you are looking for a foal that combines beauty, elite genetics and a promising future, look no further. "Príncipe de Prieto" is here to captivate hearts and raise your expectations in horse breeding. Contact us to learn more about how you can make him part of your stud or equestrian team.
We accept reservations and ship worldwide, we take care of all the documentation and arrangements.
We attend exclusively to our clients in a personalized way.
Send 𝗪𝗵𝗮𝘁𝘀𝗔𝗽𝗽 +𝟯𝟰 𝟲𝟯𝟱 𝟲𝟲𝟭𝟬 𝟯𝟮𝟭para any information about specimens or prices, we will be glad to help you.
🏆 🐴 𝐠𝐮𝐚𝐫𝐚𝐧𝐭𝐞𝐞 𝐨𝐟 𝐪𝐮𝐚𝐥𝐢𝐭𝐲, 𝐩𝐫𝐨𝐟𝐞𝐬𝐬𝐢𝐨𝐧𝐚𝐥𝐢𝐬𝐦 𝐚𝐧𝐝 𝐩𝐫𝐞𝐬𝐭𝐢𝐠𝐞. 𝐇𝐮𝐧𝐝𝐫𝐞𝐝𝐬 𝐨𝐟 𝐜𝐮𝐬𝐭𝐨𝐦𝐞𝐫𝐬 𝐚𝐫𝐨𝐮𝐧𝐝 𝐭𝐡𝐞 𝐰𝐨𝐫𝐥𝐝 𝐞𝐧𝐝𝐨𝐫𝐬𝐞 𝐮𝐬 ⭐⭐⭐⭐⭐
📸 All images by www.fotografiaequina.es