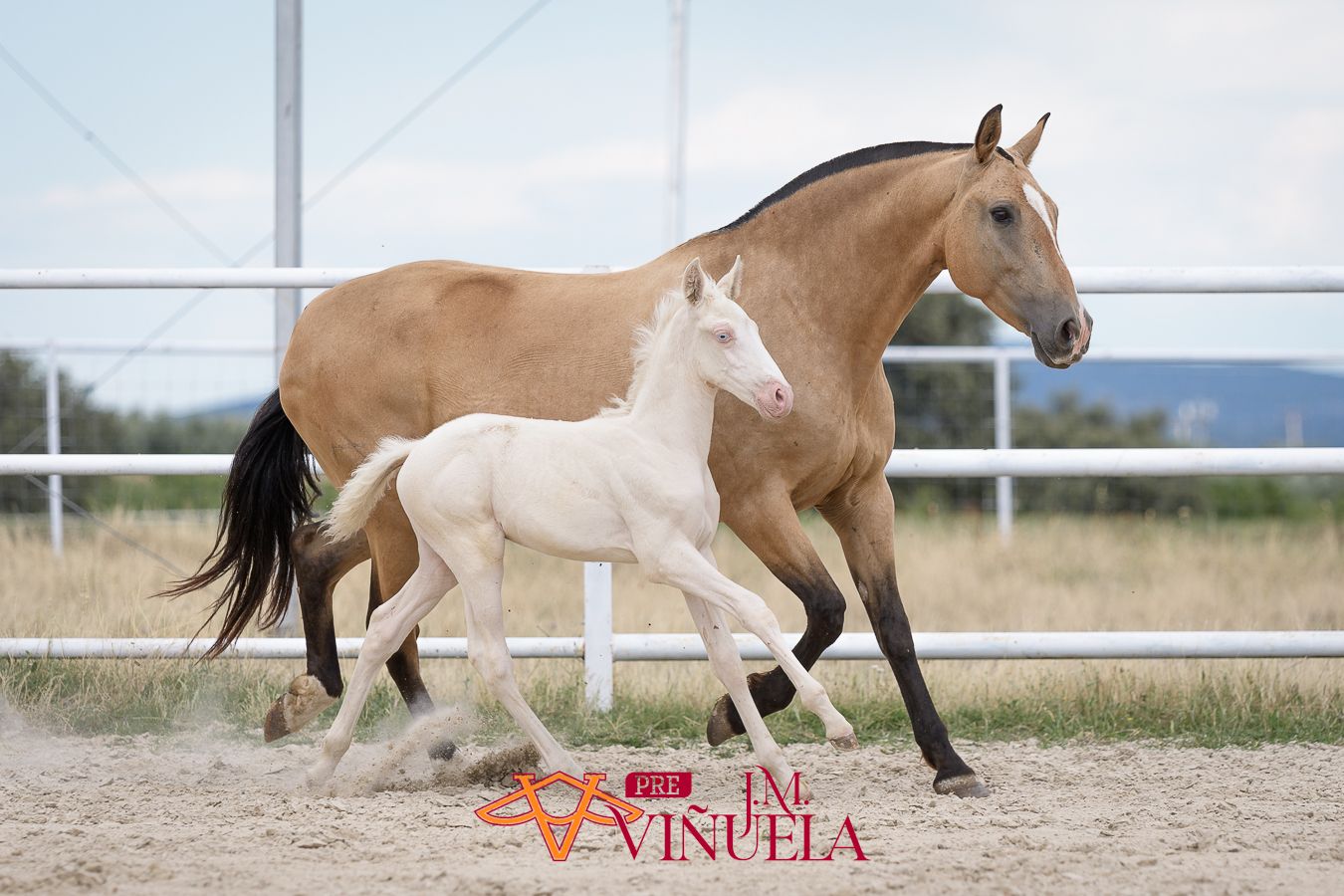 Desacarada AG III and its foal 2023
"Descarada AG III is a true jewel in our breeding stud. Her impressive morphological structure is the result of a careful selection of stallions and mares in her bloodline. In addition to her imposing appearance, she possesses a natural elegance in her movements that distinguishes her in any show.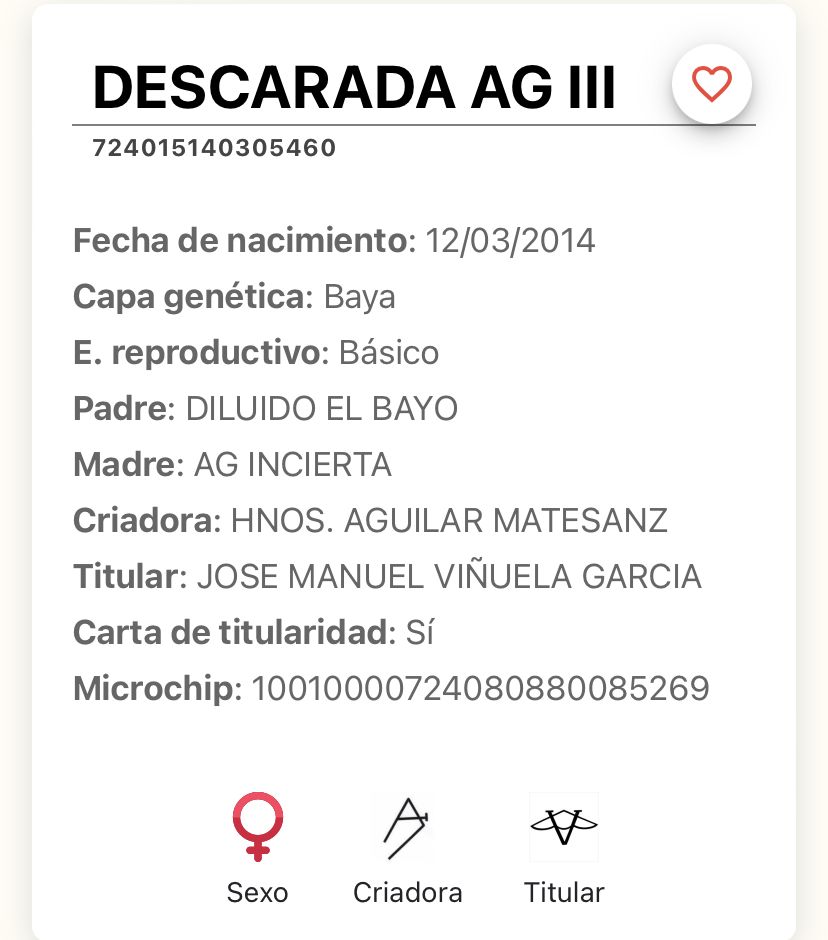 We cannot overlook the contribution of "Dilute the Bay" and "Dante V" in his genealogy. These outstanding ancestors bring their nobility, endurance and exceptional skills, which have been passed on in an amazing way through "Brazen AG III".
Her Cremello foal is tangible proof of the perfect combination of "Descarada AG III" and our extraordinary baroque stallion, BONI Indalo. This colt inherits the best of both parents: the beauty and impeccable morphological structure of his dam, and the nobility, strength and spectacular movements of his sire.
We are delighted to witness how this colt grows and develops, demonstrating his potential from an early age. Every day he surprises us with his friendly character, willingness to learn and his innate elegance. We are sure that he will become an outstanding specimen in the equestrian world.
At our stud, we value excellence and strive to breed purebred Spanish horses that excel in all facets. Both "Descarada AG III" and her foal are exceptional examples of our commitment to breeding high quality horses. We are excited to follow their development and share their progress with those looking for an extraordinary equine companion.
We accept reservations and ship worldwide, we take care of all the documentation and arrangements.
We attend exclusively to our clients in a personalized way.
Send 𝗪𝗵𝗮𝘁𝘀𝗔𝗽𝗽 +𝟯𝟰 𝟲𝟯𝟱 𝟲𝟲𝟭𝟬 𝟯𝟮𝟭para any information about specimens or prices, we will be glad to help you.
🏆 🐴 𝐠𝐮𝐚𝐫𝐚𝐧𝐭𝐞𝐞 𝐨𝐟 𝐪𝐮𝐚𝐥𝐢𝐭𝐲, 𝐩𝐫𝐨𝐟𝐞𝐬𝐬𝐢𝐨𝐧𝐚𝐥𝐢𝐬𝐦 𝐚𝐧𝐝 𝐩𝐫𝐞𝐬𝐭𝐢𝐠𝐞. 𝐇𝐮𝐧𝐝𝐫𝐞𝐝𝐬 𝐨𝐟 𝐜𝐮𝐬𝐭𝐨𝐦𝐞𝐫𝐬 𝐚𝐫𝐨𝐮𝐧𝐝 𝐭𝐡𝐞 𝐰𝐨𝐫𝐥𝐝 𝐞𝐧𝐝𝐨𝐫𝐬𝐞 𝐮𝐬 ⭐⭐⭐⭐⭐
📸 All images by www.fotografiaequina.es