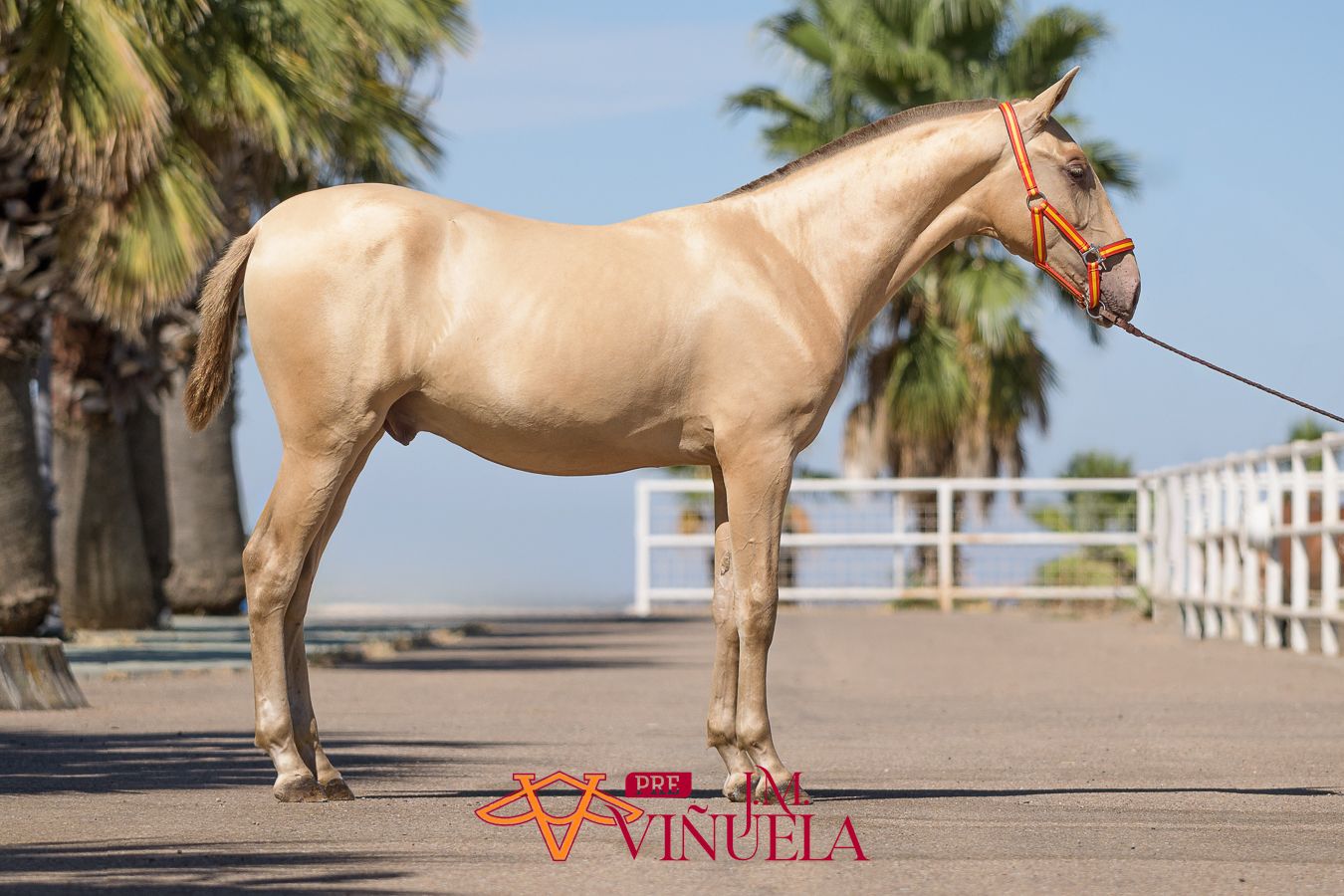 Hermes de Viñuela
Today we are pleased to present Hermes de Viñuela, an exceptional colt with a spectacular morphology and an impressive pedigree.
Born in our stud on 07/29/2022 with an Isabela Chestnut coat of pure luxury.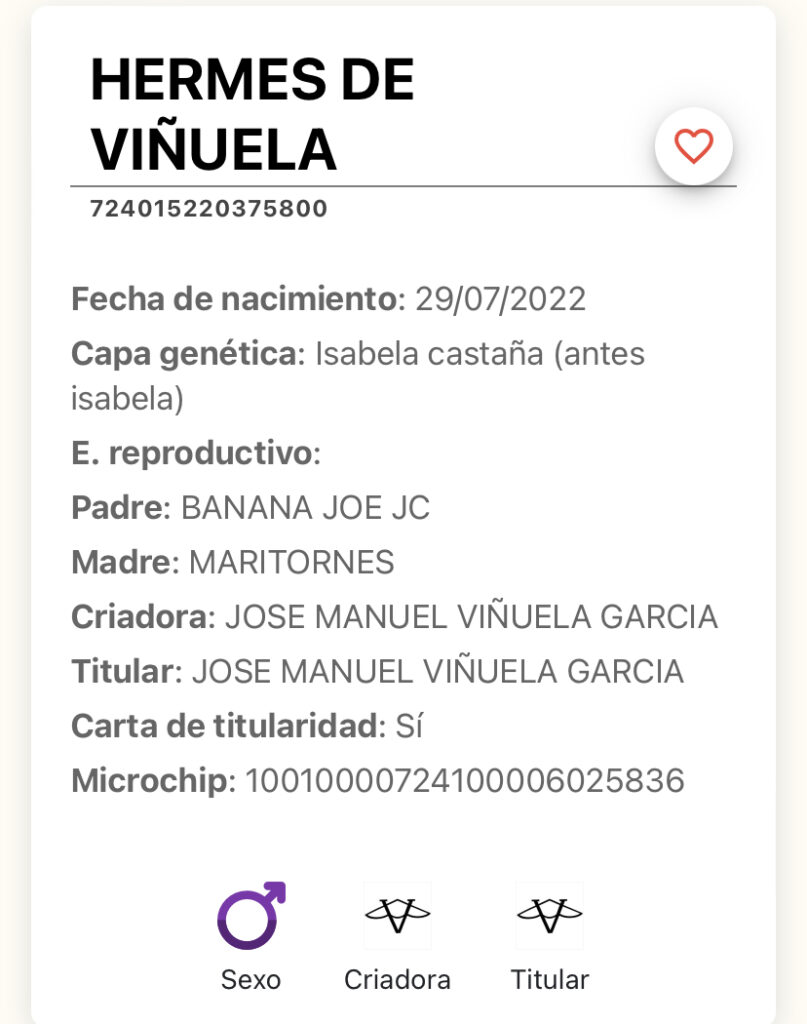 Hermes is a son of our star stallion, Banana Joe, whose excellence is passed on to each of his descendants. In his maternal line, Hermes has an outstanding pedigree, descending from renowned PRE ancestors such as Centello III, Educado XI, Poseído IV, Navarro VI and Endrino, among others that are world renowned.

In addition to his outstanding ancestry, Hermes has a chestnut Isabela coat that further enhances his unique beauty. His combination of first class genetics and stunning appearance make him a true TOP colt.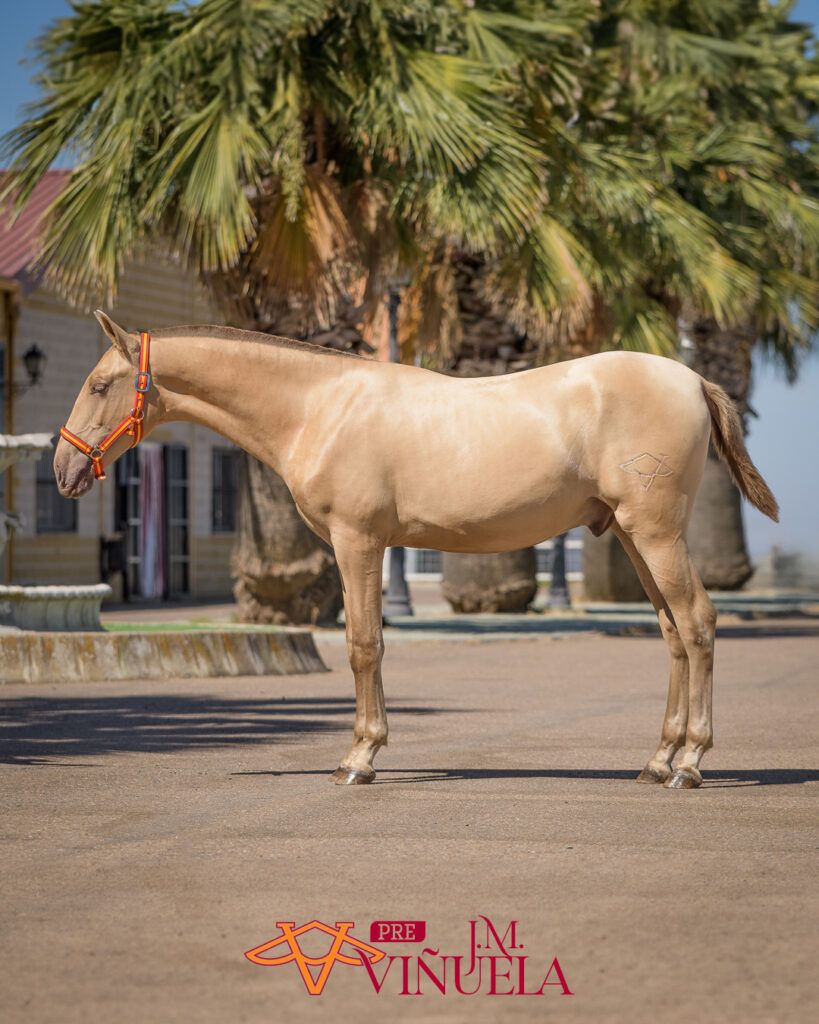 At our stud, we are dedicated to breeding horses of the highest quality, and Hermes is a clear representation of our dedication and passion. We take care of every detail to ensure that our horses have optimal health and exceptional development.
If you are looking for an exceptional equine companion for competition or to enjoy long rides, Hermes de Viñuela is the perfect choice. His spectacular morphology, combined with a renowned pedigree and his Isabela Chestnut coat, make him a unique foal.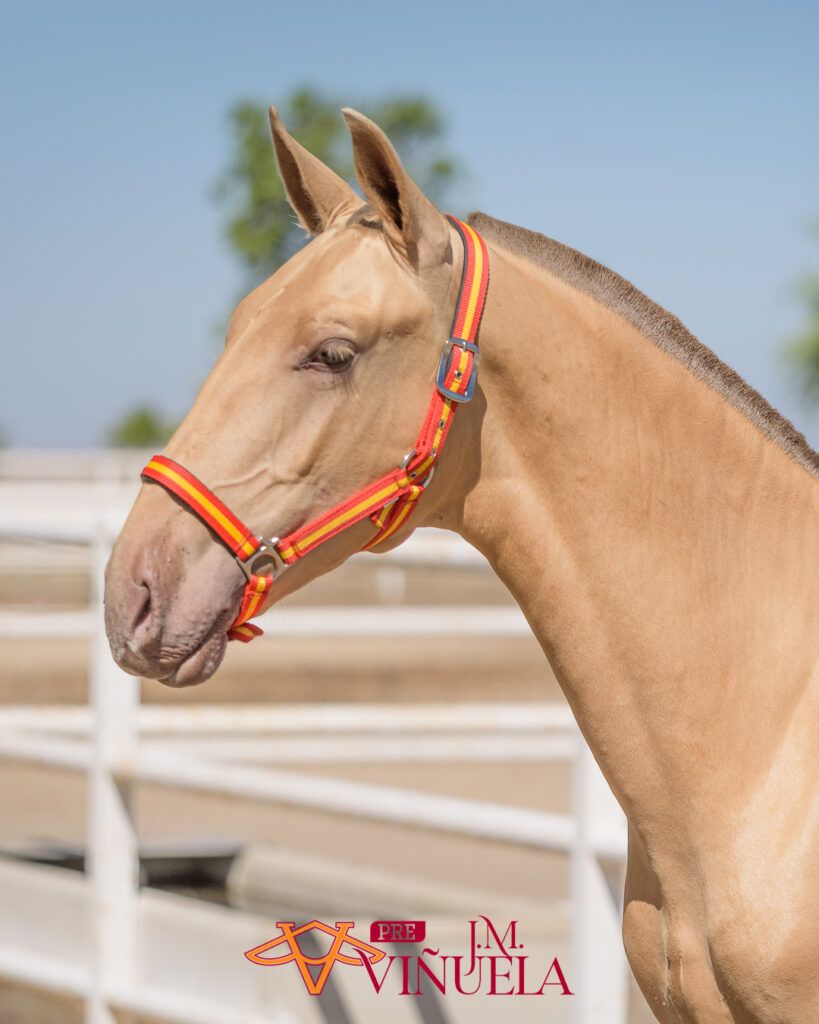 Don't miss the opportunity to have Hermes in your life. Contact us today for more information about this exceptional colt. We will be happy to answer all your questions and assist you in the process of acquiring your next equine companion, come and discover the excellence at our stud!
We accept reservations and ship worldwide, we take care of all the documentation and arrangements.
We attend exclusively to our clients in a personalized way.
Send 𝗪𝗵𝗮𝘁𝘀𝗔𝗽𝗽 +𝟯𝟰 𝟲𝟯𝟱 𝟲𝟲𝟭𝟬 𝟯𝟮𝟭para any information about specimens or prices, we will be glad to help you.
🏆 🐴 𝐠𝐮𝐚𝐫𝐚𝐧𝐭𝐞𝐞 𝐨𝐟 𝐪𝐮𝐚𝐥𝐢𝐭𝐲, 𝐩𝐫𝐨𝐟𝐞𝐬𝐬𝐢𝐨𝐧𝐚𝐥𝐢𝐬𝐦 𝐚𝐧𝐝 𝐩𝐫𝐞𝐬𝐭𝐢𝐠𝐞. 𝐇𝐮𝐧𝐝𝐫𝐞𝐝𝐬 𝐨𝐟 𝐜𝐮𝐬𝐭𝐨𝐦𝐞𝐫𝐬 𝐚𝐫𝐨𝐮𝐧𝐝 𝐭𝐡𝐞 𝐰𝐨𝐫𝐥𝐝 𝐞𝐧𝐝𝐨𝐫𝐬𝐞 𝐮𝐬 ⭐⭐⭐⭐⭐
📸 All images by www.fotografiaequina.es