Deseado de Viñuela (Sold)
"Deseado de Viñuela" spectacular colt born on 30 /04/2021 very special because his coat, black Isabelo, there is very little on the market, we could consider it exceptional and there are very few specimens born each year around the world with this coat.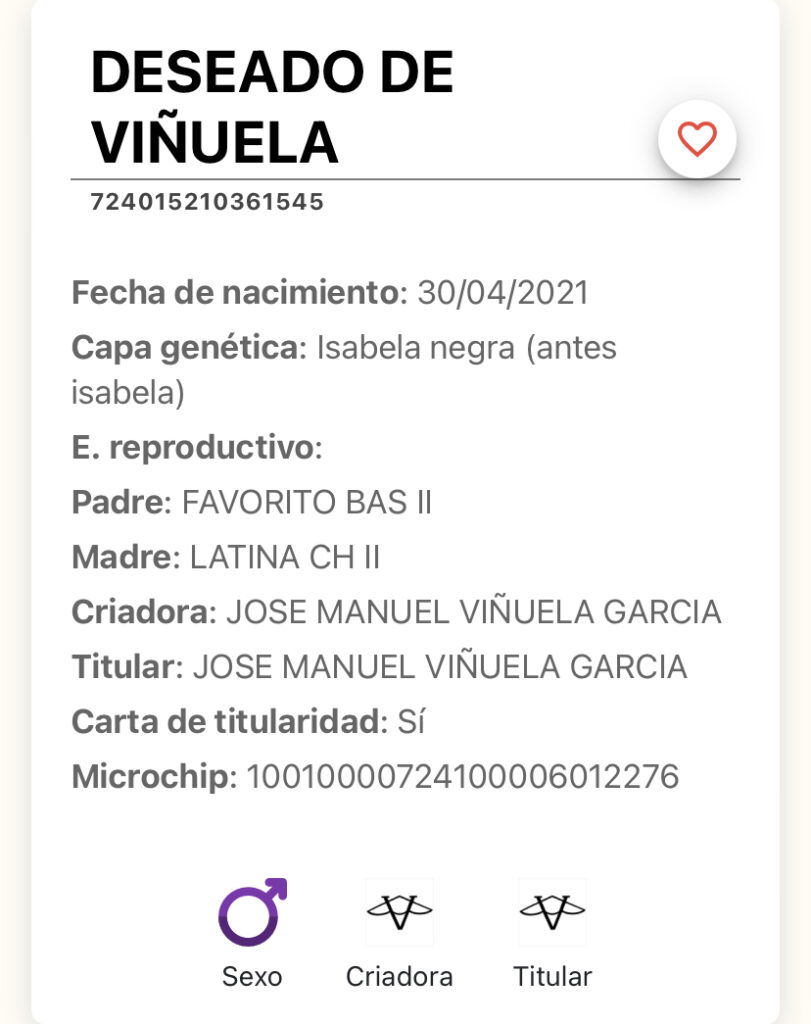 He is a son of our stallion "Favorito Bas II" that you can find in this website, a stallion that as we knew from the beginning would be a reference in the dilute coats in the world. His offspring are spectacular, beautiful, with a fantastic character and a top class morphology.
The requests for his offspring, from many countries in Europe and America, only certify how incredible this stallion is and how his offspring are triumphing around the world.
"Deseado de Viñuela" with a little more than a year old, is already taking the morphological structure and beauty of his father and movements that fall in love as soon as you see him.
In addition, his height will be very similar to, if not greater than, that of his own father.
Her dam "Latina CH II" is one of our best broodmares, specially selected for the cross with "favorito Bas II".
She is a descendant of "Nobleza del Guadiana" and "Paco Marti".
"Deseado de Viñuela is destined to be one of those horses that make history.
We accept reservations and ship worldwide, we take care of all documentation and arrangements.
We attend exclusively to our clients in a personalized way.
Send 𝗪𝗵𝗮𝘁𝘀𝗔𝗽𝗽𝗽 for any information about specimens or prices, we will be glad to help you.
🏆 🐴 𝐑𝐞𝐣𝐞𝐜𝐭 𝐢𝐦𝐢𝐭𝐚𝐭𝐢𝐨𝐧𝐬, 𝐰𝐞 𝐚𝐫𝐞 𝐚𝐠𝐮𝐚𝐫𝐚𝐧𝐭𝐞𝐞 𝐨𝐟 𝐪𝐮𝐚𝐥𝐢𝐭𝐲, 𝐩𝐫𝐨𝐟𝐞𝐬𝐬𝐢𝐨𝐧𝐚𝐥𝐢𝐬𝐦 𝐚𝐧𝐝 𝐩𝐫𝐞𝐬𝐭𝐢𝐠𝐞. 𝐇𝐮𝐧𝐝𝐫𝐞𝐝𝐬 𝐨𝐟 𝐜𝐮𝐬𝐭𝐨𝐦𝐞𝐫𝐬 𝐚𝐫𝐨𝐮𝐧𝐝 𝐭𝐡𝐞 𝐰𝐨𝐫𝐥𝐝 𝐞𝐧𝐝𝐨𝐫𝐬𝐞 𝐮𝐬 ⭐⭐⭐⭐⭐
📸 All images by www.fotografiaequina.es