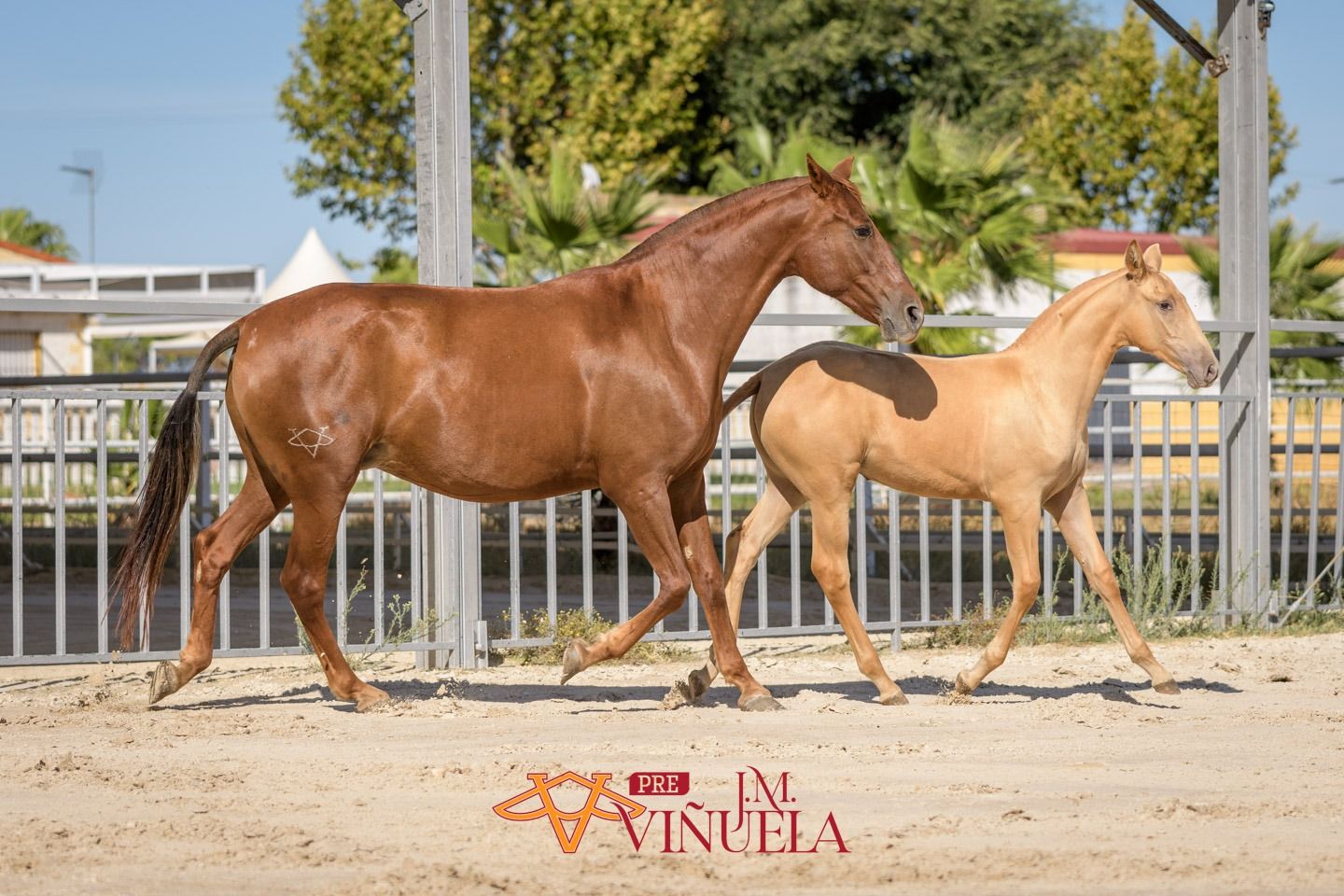 Martinika 2022
We have already told you on several occasions about a brood mare that we have in our house and that always brings us joy. She is "Martinika".
We showed you "Perlina de Viñuela" daughter of "Martinika" and "Seductor XLVI" a wonderful filly.
Or three years ago in our entry on brood mares
Or last year we decided to make a web entry just for her.
This sorrel mare is everything you could ask for in a broodmare, with impressive foals of proven quality.

Today we show her again with her foal of the year and she surprises us again with a filly of the most exclusive coat of the market, Isabela Alazán, daughter of our star stallion "Banana Joe JC".
And with so little time, you only have to see her on the track to realize that this is a filly of the highest top quality.
This is the best, the best, a copy of what is not on the market, pure exclusivity.
We accept reservations and ship worldwide, we take care of all documentation and arrangements.
We attend exclusively to our clients in a personalized way.
Send 𝗪𝗵𝗮𝘁𝘀𝗔𝗽𝗽 +𝟯𝟰 𝟲𝟯𝟱 𝟲𝟲𝟭𝟬 𝟯𝟮𝟭para any information about specimens or prices, we will be glad to help you.
🏆 🐴 𝐠𝐮𝐚𝐫𝐚𝐧𝐭𝐞𝐞 𝐨𝐟 𝐪𝐮𝐚𝐥𝐢𝐭𝐲, 𝐩𝐫𝐨𝐟𝐞𝐬𝐬𝐢𝐨𝐧𝐚𝐥𝐢𝐬𝐦 𝐚𝐧𝐝 𝐩𝐫𝐞𝐬𝐭𝐢𝐠𝐞. 𝐇𝐮𝐧𝐝𝐫𝐞𝐝𝐬 𝐨𝐟 𝐜𝐮𝐬𝐭𝐨𝐦𝐞𝐫𝐬 𝐚𝐫𝐨𝐮𝐧𝐝 𝐭𝐡𝐞 𝐰𝐨𝐫𝐥𝐝 𝐞𝐧𝐝𝐨𝐫𝐬𝐞 𝐮𝐬 ⭐⭐⭐⭐⭐
📸 All images by www.fotografiaequina.es