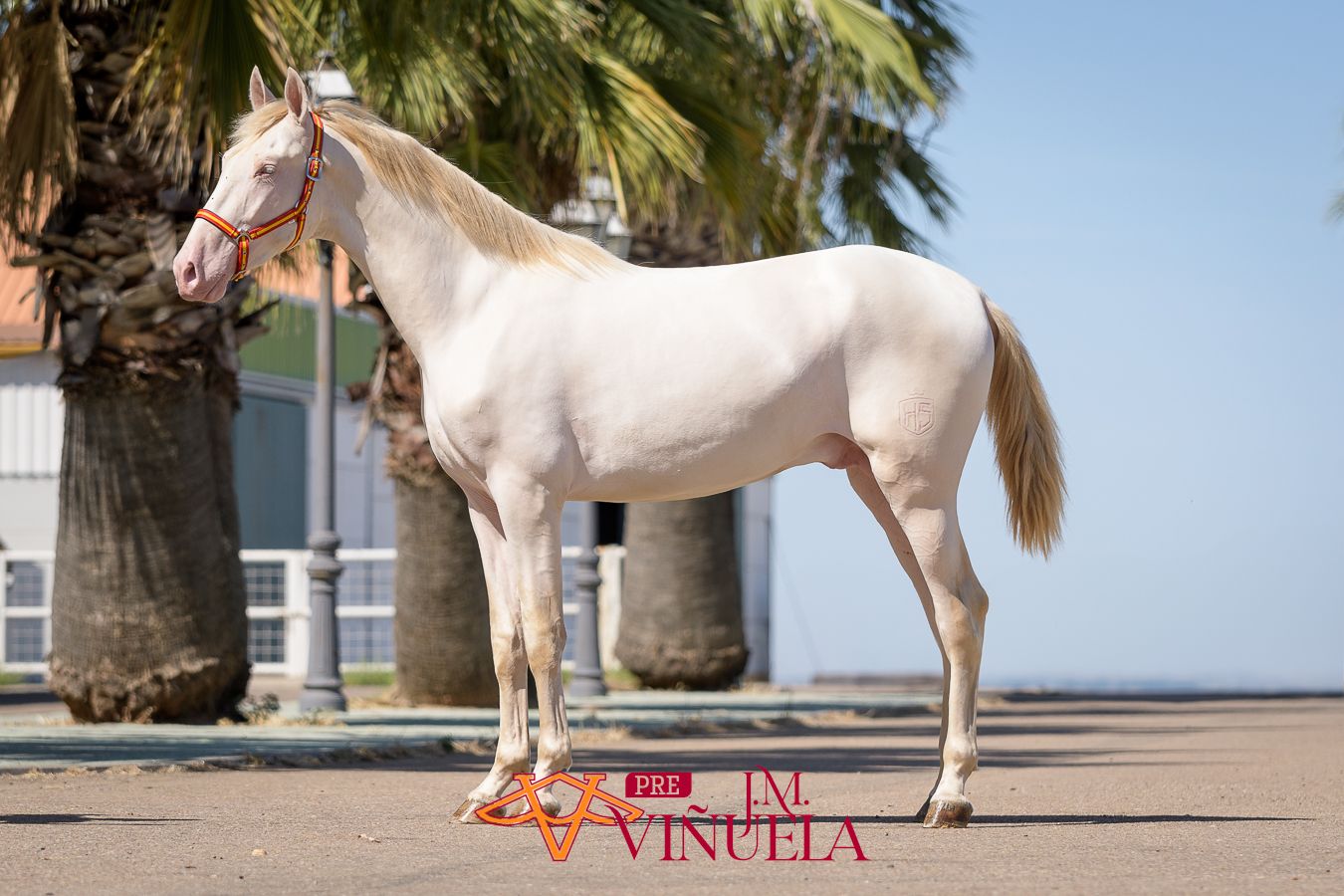 Momo
Momo is a true equine treasure that shines with his own light at Yeguada Viñuela. His impressive morphology and imposing height are characteristics that do not go unnoticed. But what really distinguishes Momo is his pearl coat, which makes him a rare and precious jewel.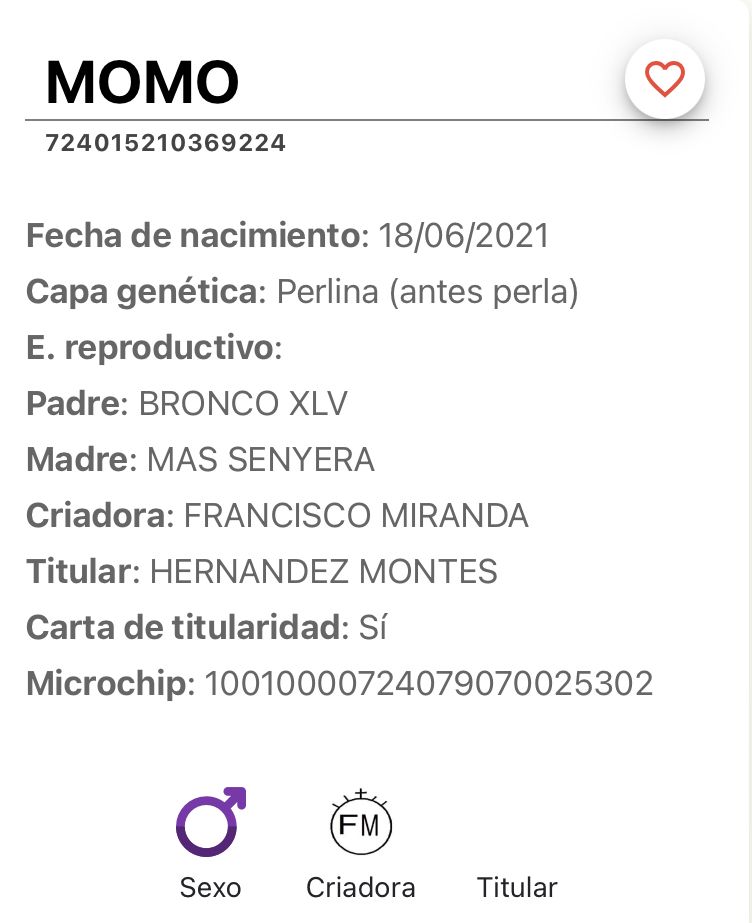 This exceptional colt is a descendant of the most distinguished PRE lines in dilute coats. In his paternal line, we find the legacy of Bronco PM, a name recognized in the equine world for its excellence and genetic quality. The influence of Bronco PM is clearly reflected in Momo's nobility and strength.
In his maternal line, Momo has his roots in the prestigious Peralta origins, a line that has produced some of the most outstanding horses in the history of Spanish horse breeding. This heritage adds even more depth and quality to his lineage.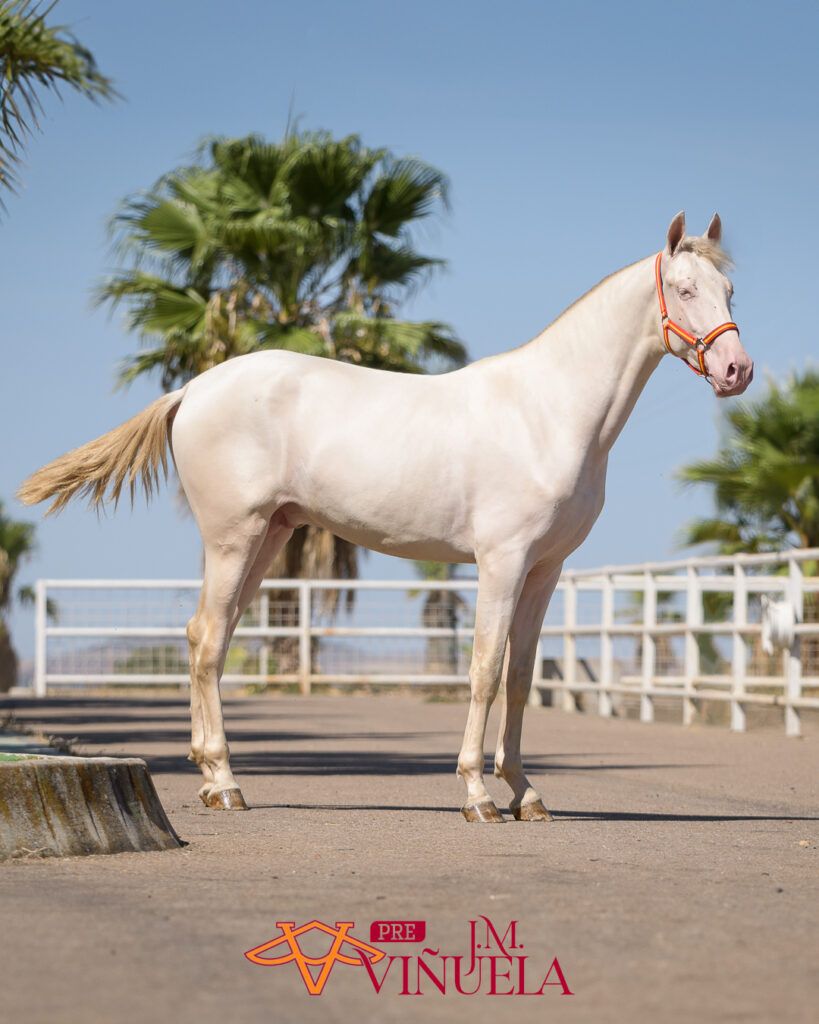 Momo is not just another colt; he is a true TOP colt. His unique combination of morphology, elite genetics and exceptional pearl coat make him an exceptional specimen available at our stud. At Yeguada Viñuela, we pride ourselves on having horses that embody excellence in all aspects, and Momo is a clear example of our commitment to quality and equine tradition.
If you are looking for a foal that brings together the best of morphology, genetics and beauty in one piece, Momo is the ideal choice. Do not hesitate to contact us for more information on how you can have this exceptional colt in your stud or as part of your equestrian team.
We accept reservations and ship worldwide, we take care of all the documentation and arrangements.
We attend exclusively to our clients in a personalized way.
Send 𝗪𝗵𝗮𝘁𝘀𝗔𝗽𝗽 +𝟯𝟰 𝟲𝟯𝟱 𝟲𝟲𝟭𝟬 𝟯𝟮𝟭para any information about specimens or prices, we will be glad to help you.
🏆 🐴 𝐠𝐮𝐚𝐫𝐚𝐧𝐭𝐞𝐞 𝐨𝐟 𝐪𝐮𝐚𝐥𝐢𝐭𝐲, 𝐩𝐫𝐨𝐟𝐞𝐬𝐬𝐢𝐨𝐧𝐚𝐥𝐢𝐬𝐦 𝐚𝐧𝐝 𝐩𝐫𝐞𝐬𝐭𝐢𝐠𝐞. 𝐇𝐮𝐧𝐝𝐫𝐞𝐝𝐬 𝐨𝐟 𝐜𝐮𝐬𝐭𝐨𝐦𝐞𝐫𝐬 𝐚𝐫𝐨𝐮𝐧𝐝 𝐭𝐡𝐞 𝐰𝐨𝐫𝐥𝐝 𝐞𝐧𝐝𝐨𝐫𝐬𝐞 𝐮𝐬 ⭐⭐⭐⭐⭐
📸 All images by www.fotografiaequina.es