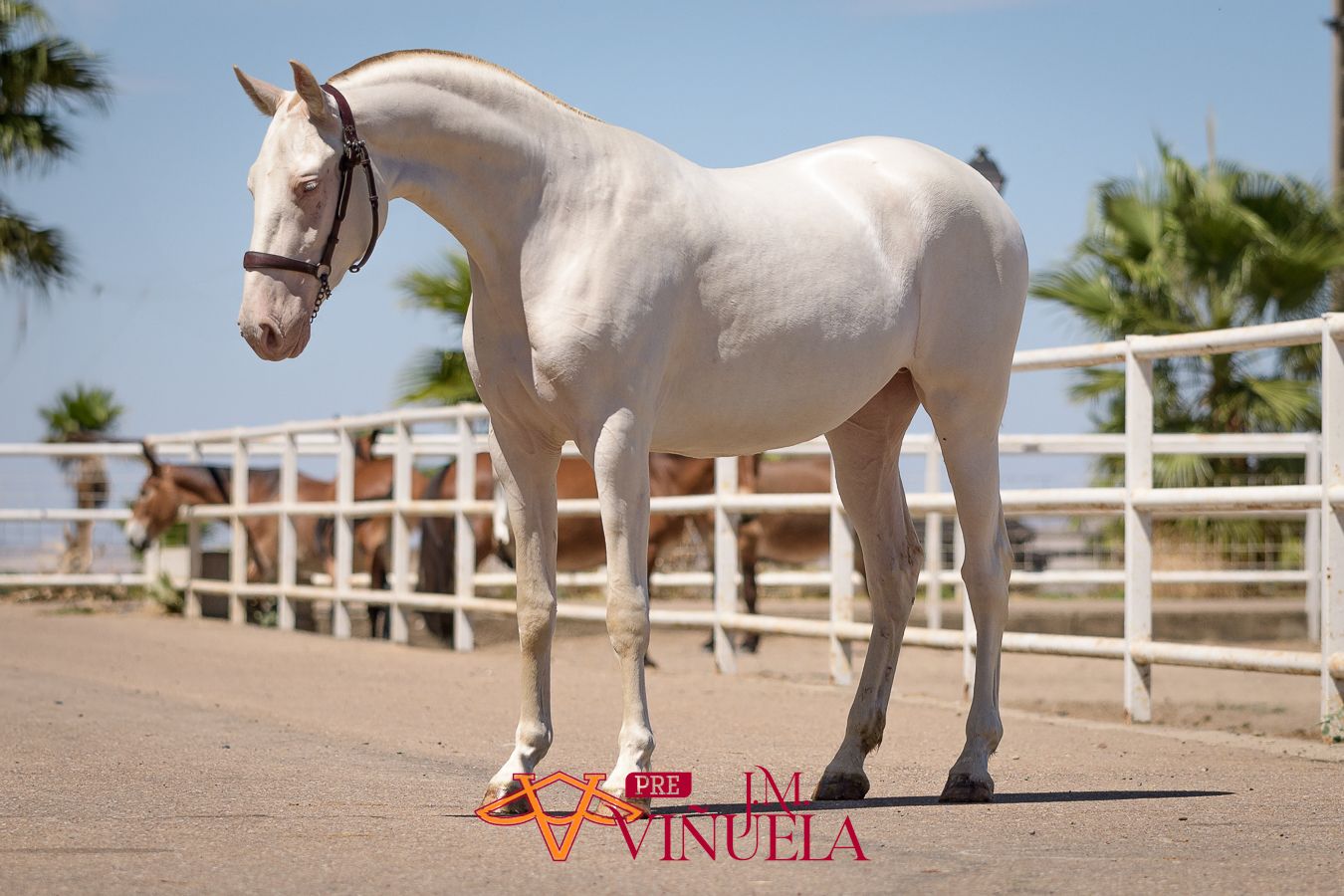 Cataleya COB Viñuela
Today we are talking about "Cataleya COB Viñuela" a spectacular Perlina filly born on 2/28/2021.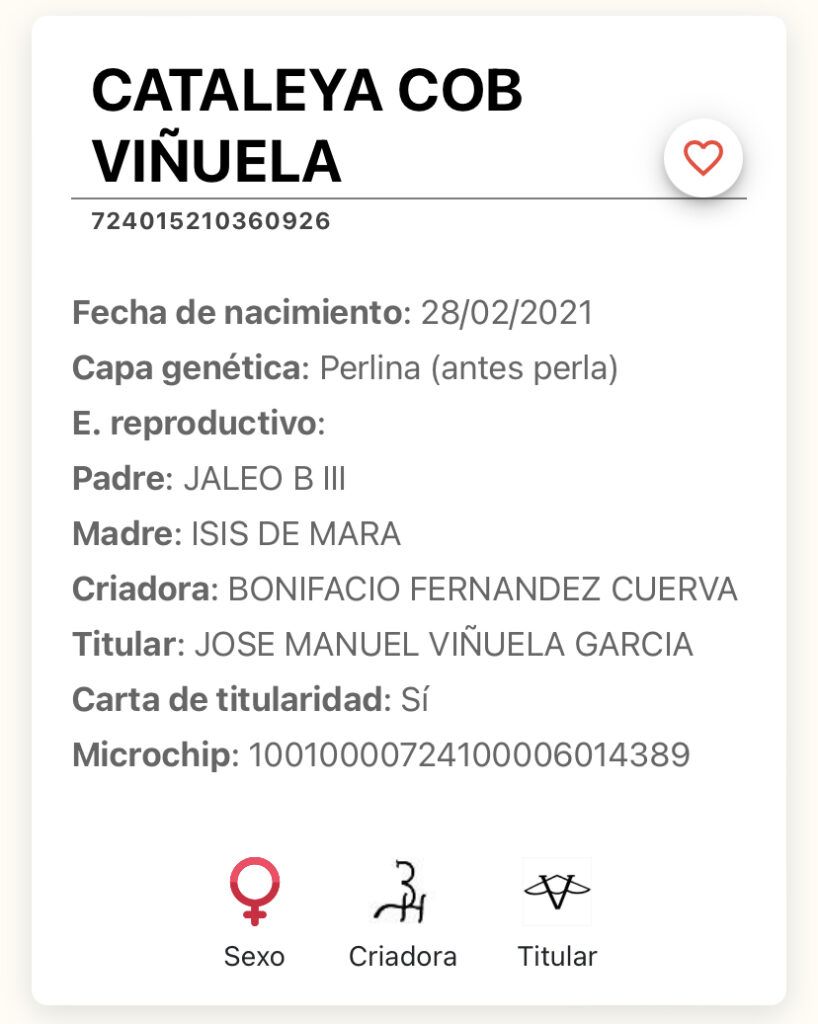 "Cataleya COB Viñuela" has many points in her favor, among them an impressive morphology where her face and neck stand out, a face that we could say almost perfect.
With a marked character, she is a filly that allows herself to be handled without any problem.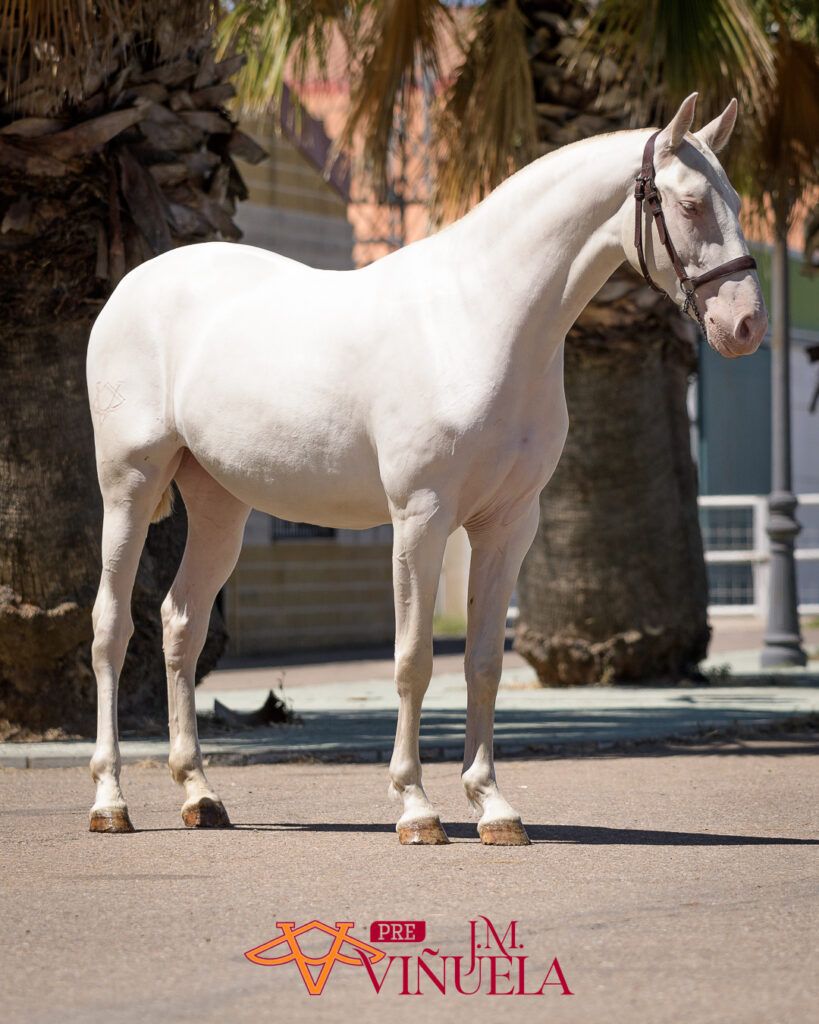 Another of its advantages is its origins, coming from the best lines.
She is daughter of "Jaleo B III" sire of our stallion "Favorito Bas II" maximum guarantee of genetic quality, her mother "Isis de Mara" descendant of "Deleitoso III" and "Carmelo II" add an impressive plus in her genealogical tree.

"Cataleya COB Viñuela is a filly with a total guarantee, with which you can't go wrong and that will enrich any stud farm in the world.
We accept reservations and ship worldwide, we take care of all documentation and arrangements.
We attend exclusively to our clients in a personalized way.
Send 𝗪𝗵𝗮𝘁𝘀𝗔𝗽𝗽 +𝟯𝟰 𝟲𝟯𝟱 𝟲𝟲𝟭𝟬 𝟯𝟮𝟭para any information about specimens or prices, we will be glad to help you.
🏆 🐴 𝐠𝐮𝐚𝐫𝐚𝐧𝐭𝐞𝐞 𝐨𝐟 𝐪𝐮𝐚𝐥𝐢𝐭𝐲, 𝐩𝐫𝐨𝐟𝐞𝐬𝐬𝐢𝐨𝐧𝐚𝐥𝐢𝐬𝐦 𝐚𝐧𝐝 𝐩𝐫𝐞𝐬𝐭𝐢𝐠𝐞. 𝐇𝐮𝐧𝐝𝐫𝐞𝐝𝐬 𝐨𝐟 𝐜𝐮𝐬𝐭𝐨𝐦𝐞𝐫𝐬 𝐚𝐫𝐨𝐮𝐧𝐝 𝐭𝐡𝐞 𝐰𝐨𝐫𝐥𝐝 𝐞𝐧𝐝𝐨𝐫𝐬𝐞 𝐮𝐬 ⭐⭐⭐⭐⭐
📸 All images by www.fotografiaequina.es