BG Hechicera (Sold)
She is "BG Hechicera" a beautiful pearl coat filly born on 10/5/2022.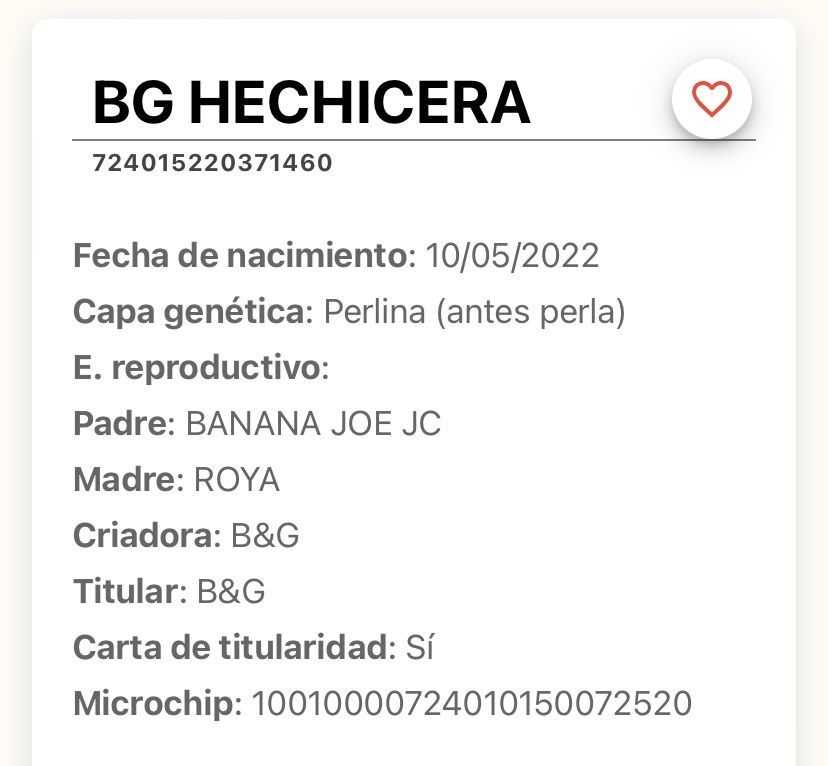 With so little time "BG Hechicera" has us in love, maybe she cast a spell on us 😉
He has it all, a spectacular morphology, where his neck and face stand out, very much in the breed and with perfect proportions, powerful body and a lot of bone.
And beautiful movements, with an impressive trot and stride, and this is because he comes from the best of the best.
His sire is our stallion "Banana Joe JC" and his dam "Roya", once one of our best broodmares.

It is incredible how our "Banana Joe JC" transmits quality to his offspring, there is no foal that we have to fault for any deficiency. Everything that comes out of "Banana Joe JC" is pure top quality.
A perfect example of what we are saying is demonstrated in "BG Hechicera".
Enjoy it
We accept reservations and ship worldwide, we take care of all documentation and arrangements.
We attend exclusively to our clients in a personalized way.
Send 𝗪𝗵𝗮𝘁𝘀𝗔𝗽𝗽 +𝟯𝟰 𝟲𝟯𝟱 𝟲𝟲𝟭𝟬 𝟯𝟮𝟭para any information about specimens or prices, we will be glad to help you.
🏆 🐴 𝐠𝐮𝐚𝐫𝐚𝐧𝐭𝐞𝐞 𝐨𝐟 𝐪𝐮𝐚𝐥𝐢𝐭𝐲, 𝐩𝐫𝐨𝐟𝐞𝐬𝐬𝐢𝐨𝐧𝐚𝐥𝐢𝐬𝐦 𝐚𝐧𝐝 𝐩𝐫𝐞𝐬𝐭𝐢𝐠𝐞. 𝐇𝐮𝐧𝐝𝐫𝐞𝐝𝐬 𝐨𝐟 𝐜𝐮𝐬𝐭𝐨𝐦𝐞𝐫𝐬 𝐚𝐫𝐨𝐮𝐧𝐝 𝐭𝐡𝐞 𝐰𝐨𝐫𝐥𝐝 𝐞𝐧𝐝𝐨𝐫𝐬𝐞 𝐮𝐬 ⭐⭐⭐⭐⭐
📸 All images by www.fotografiaequina.es