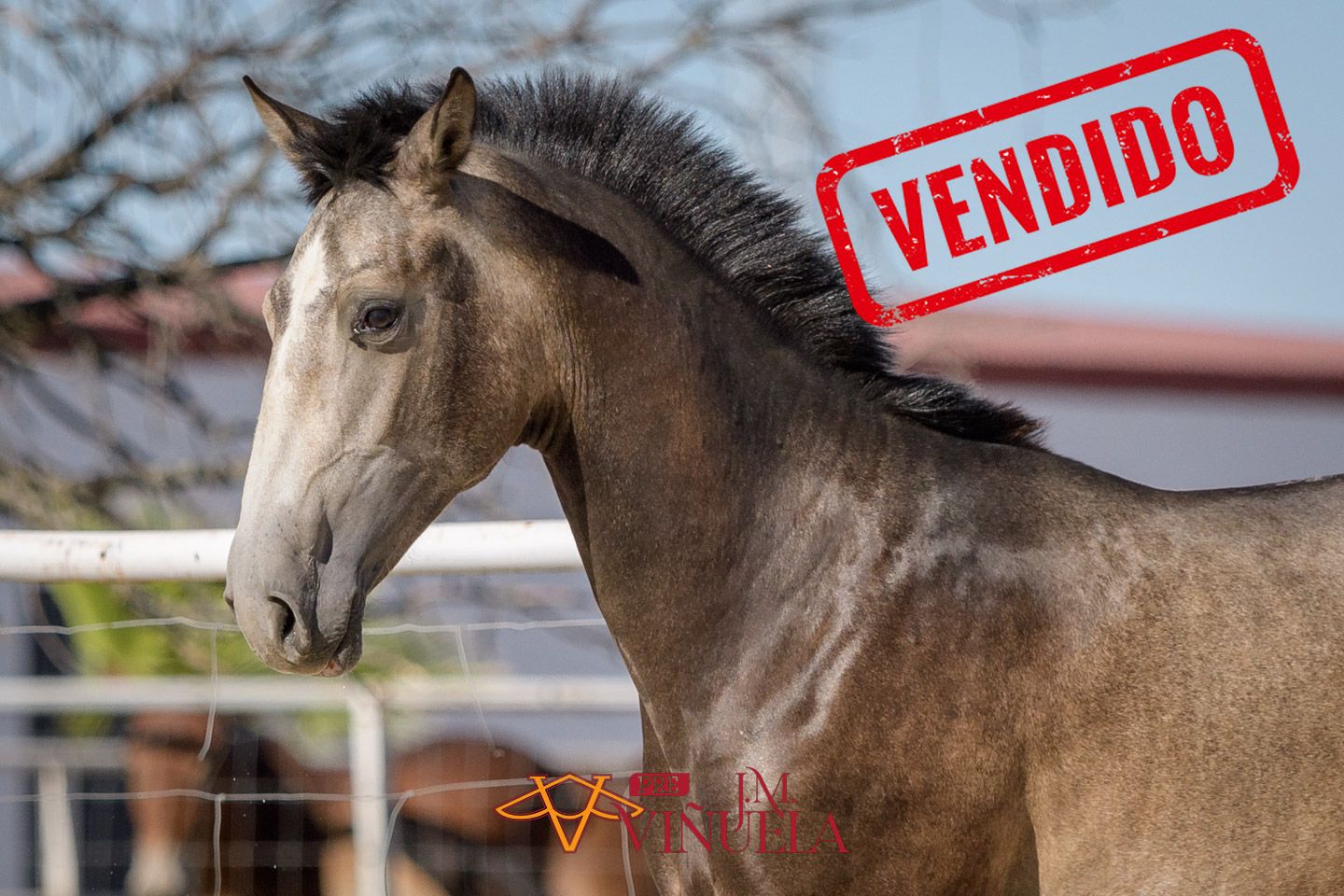 Cisne de Viñuela (Sold)
"Cisne de Viñuela" is a Torda colt born on 31/03/2021 and as in the swan story, we know he will be one to remember.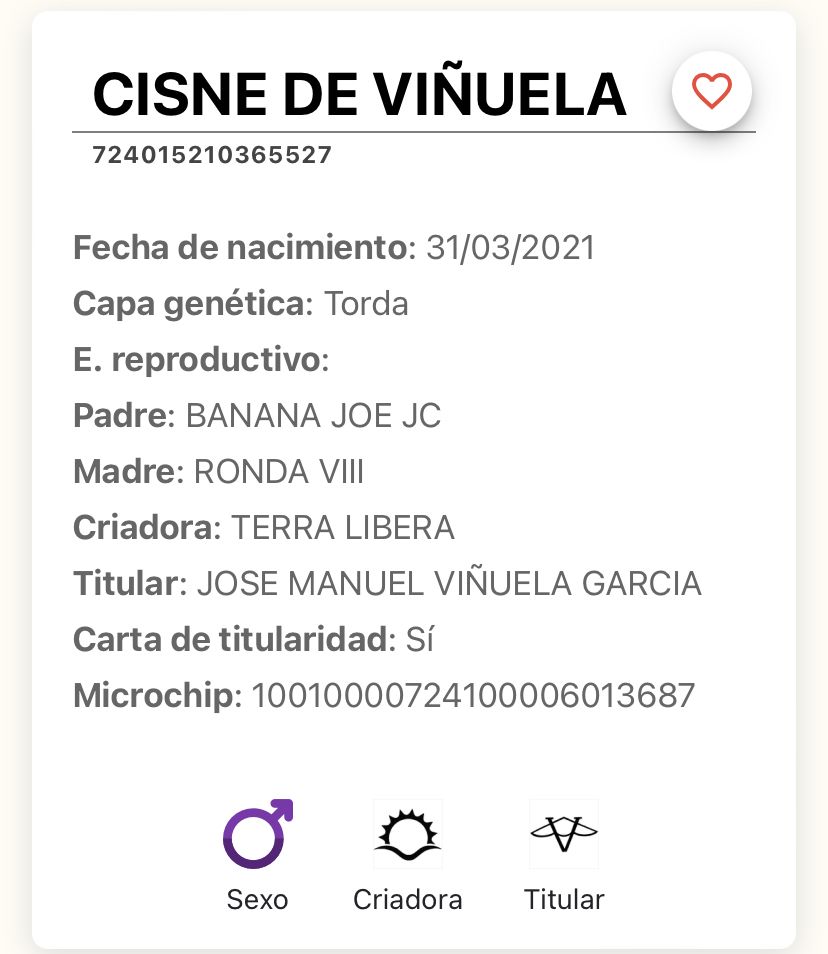 The first thing to say is that he is a son of our star stallion "Banana Joe JC", which guarantees us and we have seen it in many foals, the highest quality, with morphological characteristics, movements and character of a champion horse.
Ascendants such as "Bronco PM" his grandfather or "Revoltoso XXIX" his great-grandfather among others on the paternal side. Or on the maternal side we have specimens such as "Adelante" or "Leyenda".

They assure the best origins for this marvel of a foal.
Its morphology already stands out for having a very good height and a spectacular face and neck, worthy of its relatives.
And the movements are already out of this world, inherited from our "Banana Joe JC" are impressive on the track.
As we said, "Cisne de Viñuela" will be an impressive swan that will go from better to better.
We accept reservations and ship worldwide, we take care of all documentation and arrangements.
We attend exclusively to our clients in a personalized way.
Send 𝗪𝗵𝗮𝘁𝘀𝗔𝗽𝗽 +𝟯𝟰 𝟲𝟯𝟱 𝟲𝟲𝟭𝟬 𝟯𝟮𝟭para any information about specimens or prices, we will be glad to help you.
🏆 🐴 𝐠𝐮𝐚𝐫𝐚𝐧𝐭𝐞𝐞 𝐨𝐟 𝐪𝐮𝐚𝐥𝐢𝐭𝐲, 𝐩𝐫𝐨𝐟𝐞𝐬𝐬𝐢𝐨𝐧𝐚𝐥𝐢𝐬𝐦 𝐚𝐧𝐝 𝐩𝐫𝐞𝐬𝐭𝐢𝐠𝐞. 𝐇𝐮𝐧𝐝𝐫𝐞𝐝𝐬 𝐨𝐟 𝐜𝐮𝐬𝐭𝐨𝐦𝐞𝐫𝐬 𝐚𝐫𝐨𝐮𝐧𝐝 𝐭𝐡𝐞 𝐰𝐨𝐫𝐥𝐝 𝐞𝐧𝐝𝐨𝐫𝐬𝐞 𝐮𝐬 ⭐⭐⭐⭐⭐
📸 Todas las imágenes por www.fotografiaequina.es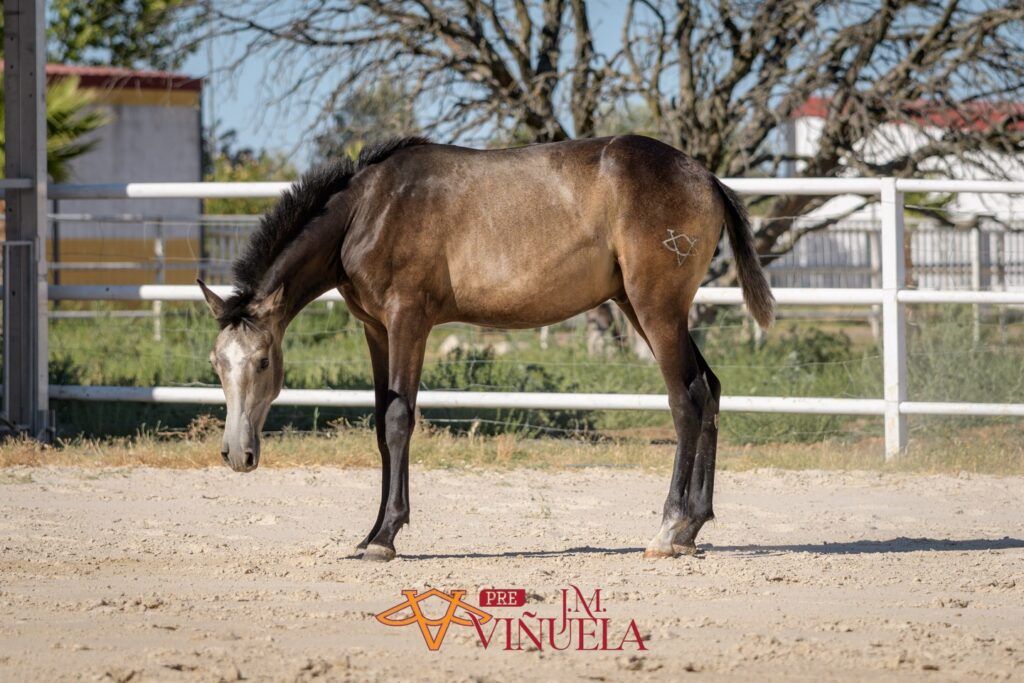 All images by