Nely HS (Sold)
Today it's time to introduce you to "Nely HS", a beautiful Palomina Perla filly (formerly Perlina) born on 22/06/2021.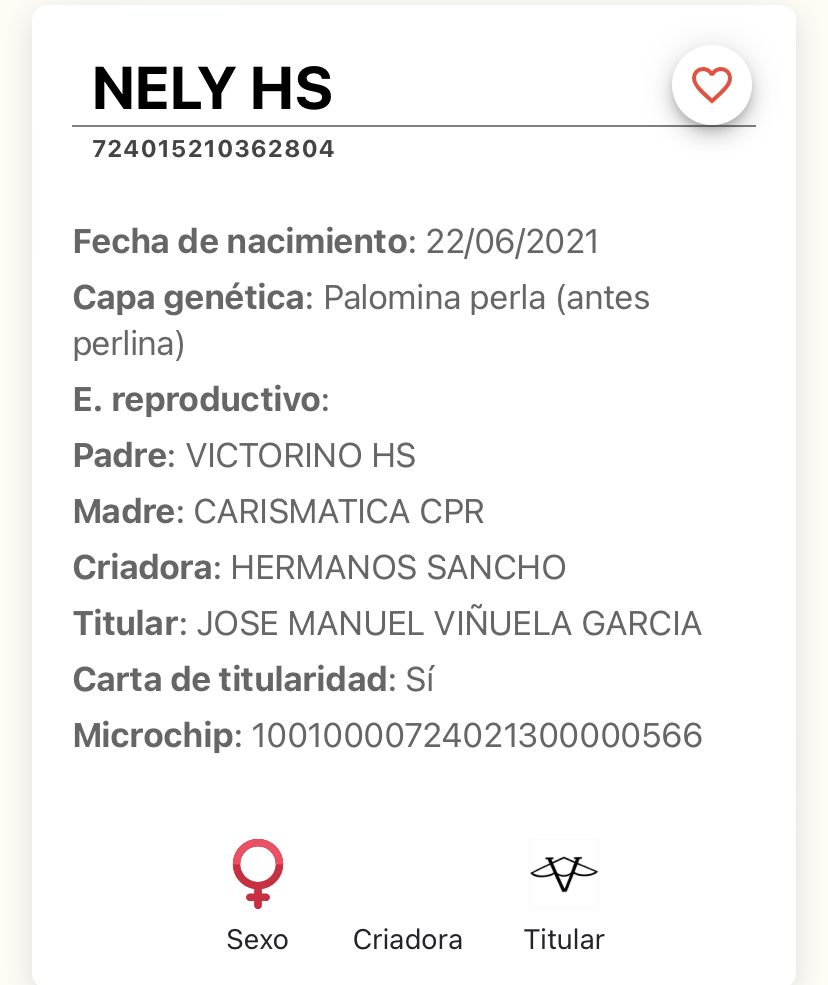 With a little more than a year old "Nely HS" is already beginning to sprout the character and forms of a great specimen.
"Nely HS" is the daughter of our stallion "Victorino HS" who is giving us some impressive horses and has among his descendants such outstanding horses as "Oropel IV" or "Chanel XI" from Paco Marti Stud. Or specimens such as "Faraón LIX" from Yeguada la Escalera.

His morphology highlights his face and how harmonious all his lines are as a whole.
The movements are very wide, with a calm and clear trot and above all very elegant.
"Nely HS" will be a great mare and a sure value. Layer, morphology and movements united in a filly with a lot of class.
We accept reservations and ship worldwide, we take care of all documentation and arrangements.
We attend exclusively to our clients in a personalized way.
Send 𝗪𝗵𝗮𝘁𝘀𝗔𝗽𝗽 +𝟯𝟰 𝟲𝟯𝟱 𝟲𝟲𝟭𝟬 𝟯𝟮𝟭 for any information about specimens or prices, we will be happy to help you.
🏆 🐴 𝐑𝐞𝐣𝐞𝐜𝐭 𝐢𝐦𝐢𝐭𝐚𝐭𝐢𝐨𝐧𝐬, 𝐰𝐞 𝐚𝐫𝐞 𝐚𝐠𝐮𝐚𝐫𝐚𝐧𝐭𝐞𝐞 𝐨𝐟 𝐪𝐮𝐚𝐥𝐢𝐭𝐲, 𝐩𝐫𝐨𝐟𝐞𝐬𝐬𝐢𝐨𝐧𝐚𝐥𝐢𝐬𝐦 𝐚𝐧𝐝 𝐩𝐫𝐞𝐬𝐭𝐢𝐠𝐞. 𝐇𝐮𝐧𝐝𝐫𝐞𝐝𝐬 𝐨𝐟 𝐜𝐮𝐬𝐭𝐨𝐦𝐞𝐫𝐬 𝐚𝐫𝐨𝐮𝐧𝐝 𝐭𝐡𝐞 𝐰𝐨𝐫𝐥𝐝 𝐞𝐧𝐝𝐨𝐫𝐬𝐞 𝐮𝐬 ⭐⭐⭐⭐⭐
📸 All images by www.fotografiaequina.es