Copito de Viñuela (Sold)
Today we bring you a precious one, "Copito de Viñuela", a beautiful colt of Cremello coat born on 04/18/2021.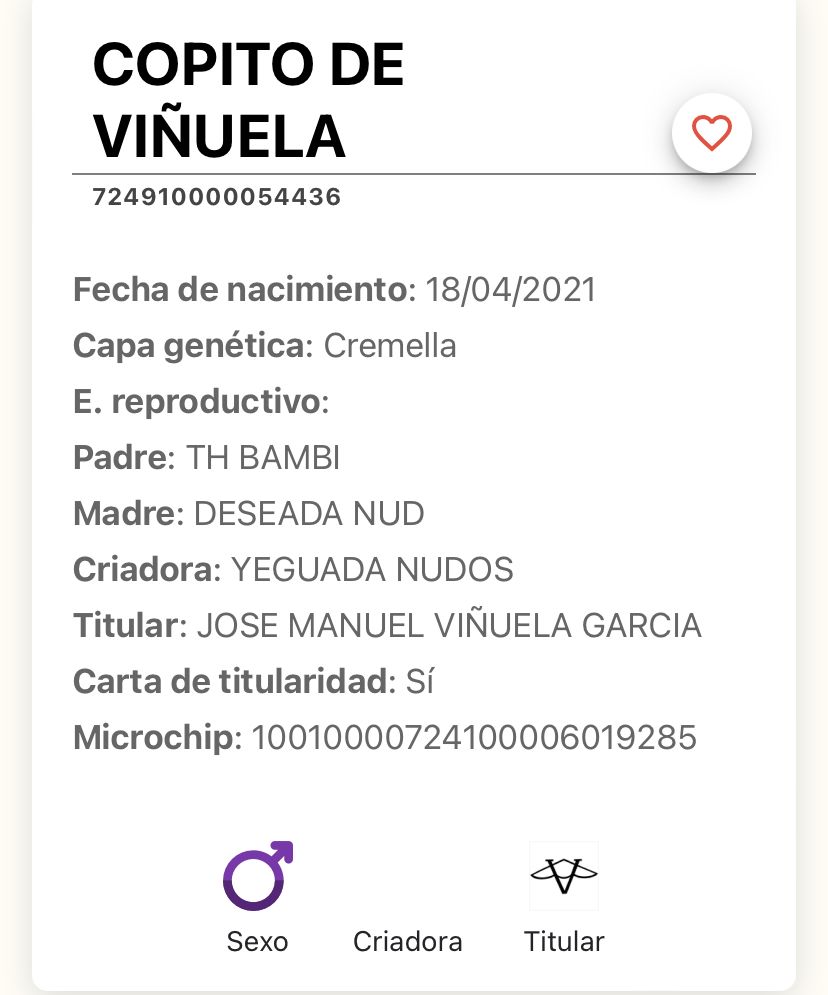 "Copito de Viñuela" stands out mainly for his racial fidelity, adjusting perfectly to the perfect standard of the breed, if we add to that his special coat, the whole makes us find ourselves in front of a Top class specimen.
As we have already said on several occasions, specimens of this type are not too long in our house, our customers know that they are animals of the highest quality.
"Copito de Viñuela" has impressive movements, with great amplitudes and a very clear and joyful trot. He flies over the track
"Copito de Viñuela" also has a very important and well known ancestry.
By paternal line stands out the famous "Dulzón" of Paco Marti and "Cemento" of the military stud.
By maternal line, the mythical "Lastur", a specimen that created history in the breed together with "Divino XVIII".

All this, makes "Copito de Viñuela" possess an enviable genetics, along with its beauty, perfect morphology and movements of competition, is an exclusive specimen for those who want the best of the best.
We accept reservations and ship worldwide, we take care of all documentation and arrangements.
We attend exclusively to our clients in a personalized way.
Send 𝗪𝗵𝗮𝘁𝘀𝗔𝗽𝗽𝗽 for any information about specimens or prices, we will be glad to help you.
🏆 🐴 𝐑𝐞𝐣𝐞𝐜𝐭 𝐢𝐦𝐢𝐭𝐚𝐭𝐢𝐨𝐧𝐬, 𝐰𝐞 𝐚𝐫𝐞 𝐚𝐠𝐮𝐚𝐫𝐚𝐧𝐭𝐞𝐞 𝐨𝐟 𝐪𝐮𝐚𝐥𝐢𝐭𝐲, 𝐩𝐫𝐨𝐟𝐞𝐬𝐬𝐢𝐨𝐧𝐚𝐥𝐢𝐬𝐦 𝐚𝐧𝐝 𝐩𝐫𝐞𝐬𝐭𝐢𝐠𝐞. 𝐇𝐮𝐧𝐝𝐫𝐞𝐝𝐬 𝐨𝐟 𝐜𝐮𝐬𝐭𝐨𝐦𝐞𝐫𝐬 𝐚𝐫𝐨𝐮𝐧𝐝 𝐭𝐡𝐞 𝐰𝐨𝐫𝐥𝐝 𝐞𝐧𝐝𝐨𝐫𝐬𝐞 𝐮𝐬 ⭐⭐⭐⭐⭐
📸 All images by www.fotografiaequina.es