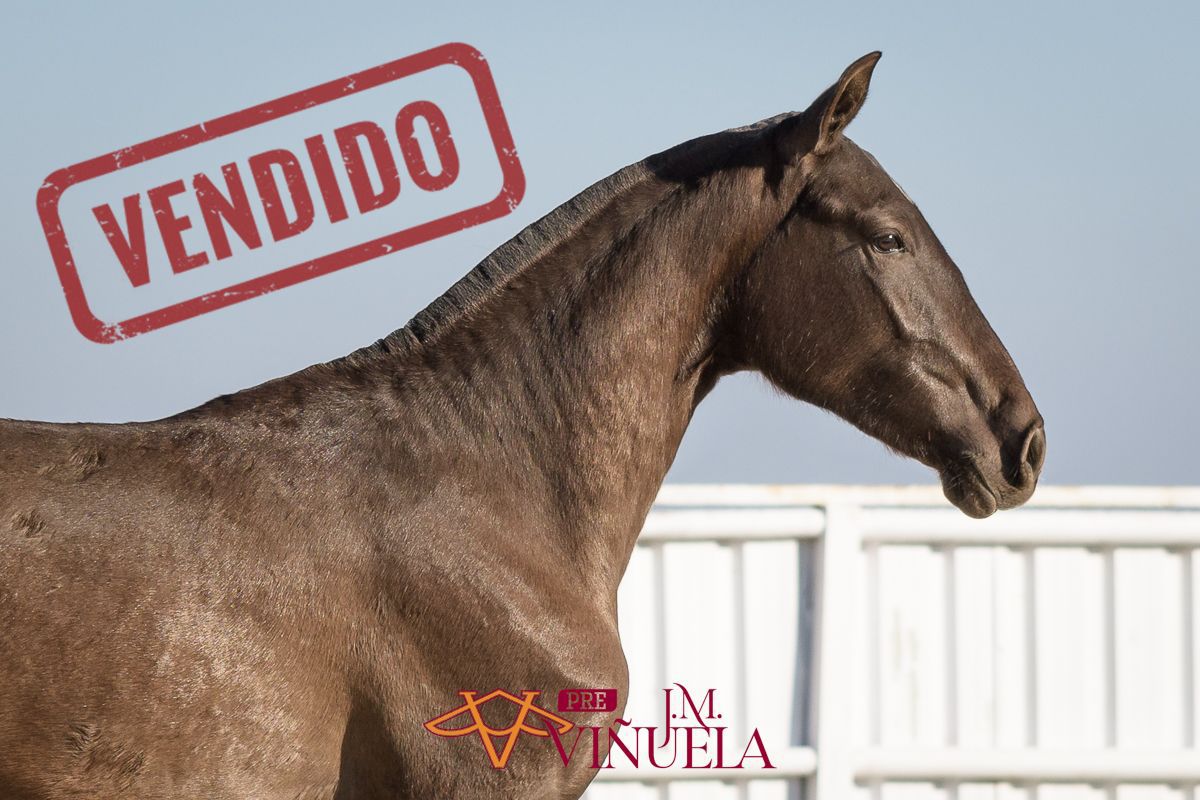 Dama TN (sold)
She is "Dama TN" and she is a beautiful filly born in our stud on 03/15/2021.
With an ash-black coating that gives it an impressive chocolate tone.
A color of what is not available on the market, a color that makes "Dama TN" look like a hottie and attracts attention wherever it goes.
His morphology is impressive, with a super elegant line, fine, but with a very marked breed. A beauty
Along with his elegant presence, are his movements, where he clearly enters those acquired by genetics, he comes from wonderful lines of movements, and his father is nothing more and nothing less than our star stallion "Banana JOE JC".
The fact is that the offspring of "Banana JOE JC" are a guarantee of quality and success in breeding.
His maternal line comes from the "Granda" stud farm, one of the oldest and most important in Extremadura.

"Dama TN" is clear that she will be a reference in her next years and above all she will attract all eyes for her beauty and color.
We accept reservations and ship worldwide, we take care of all documentation and arrangements.
We attend exclusively to our clients in a personalized way.
Send 𝗪𝗵𝗮𝘁𝘀𝗔𝗽𝗽 +𝟯𝟰 𝟲𝟯𝟱 𝟲𝟲𝟭𝟬 𝟯𝟮𝟭para any information about specimens or prices, we will be glad to help you.
🏆 🐴 𝐠𝐮𝐚𝐫𝐚𝐧𝐭𝐞𝐞 𝐨𝐟 𝐪𝐮𝐚𝐥𝐢𝐭𝐲, 𝐩𝐫𝐨𝐟𝐞𝐬𝐬𝐢𝐨𝐧𝐚𝐥𝐢𝐬𝐦 𝐚𝐧𝐝 𝐩𝐫𝐞𝐬𝐭𝐢𝐠𝐞. 𝐇𝐮𝐧𝐝𝐫𝐞𝐝𝐬 𝐨𝐟 𝐜𝐮𝐬𝐭𝐨𝐦𝐞𝐫𝐬 𝐚𝐫𝐨𝐮𝐧𝐝 𝐭𝐡𝐞 𝐰𝐨𝐫𝐥𝐝 𝐞𝐧𝐝𝐨𝐫𝐬𝐞 𝐮𝐬 ⭐⭐⭐⭐⭐
📸 All images by www.fotografiaequina.es