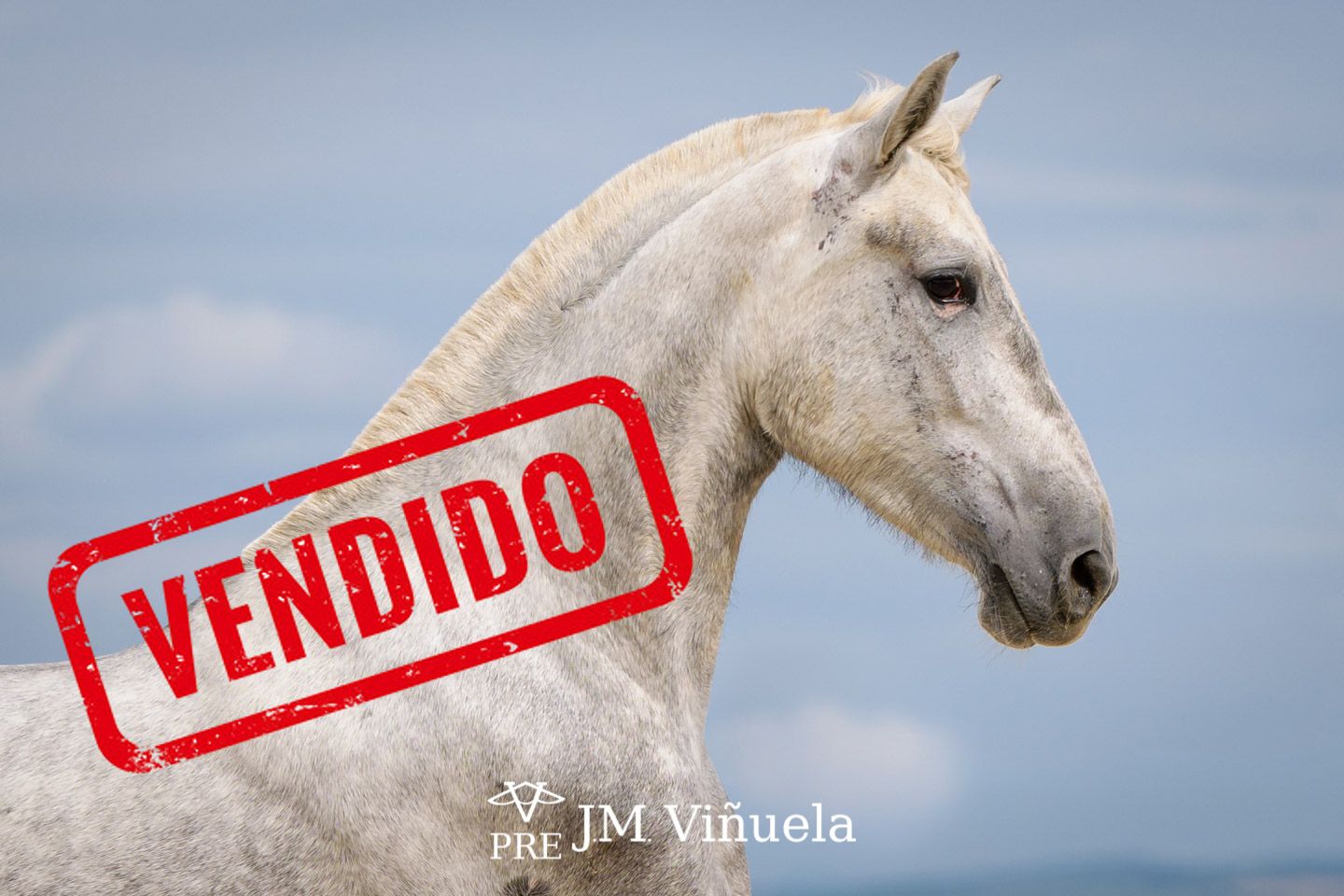 Felina de Vara (Sold)
Introducing "Felina de Vara" stunning dapple-grey filly born on 18/03/2018.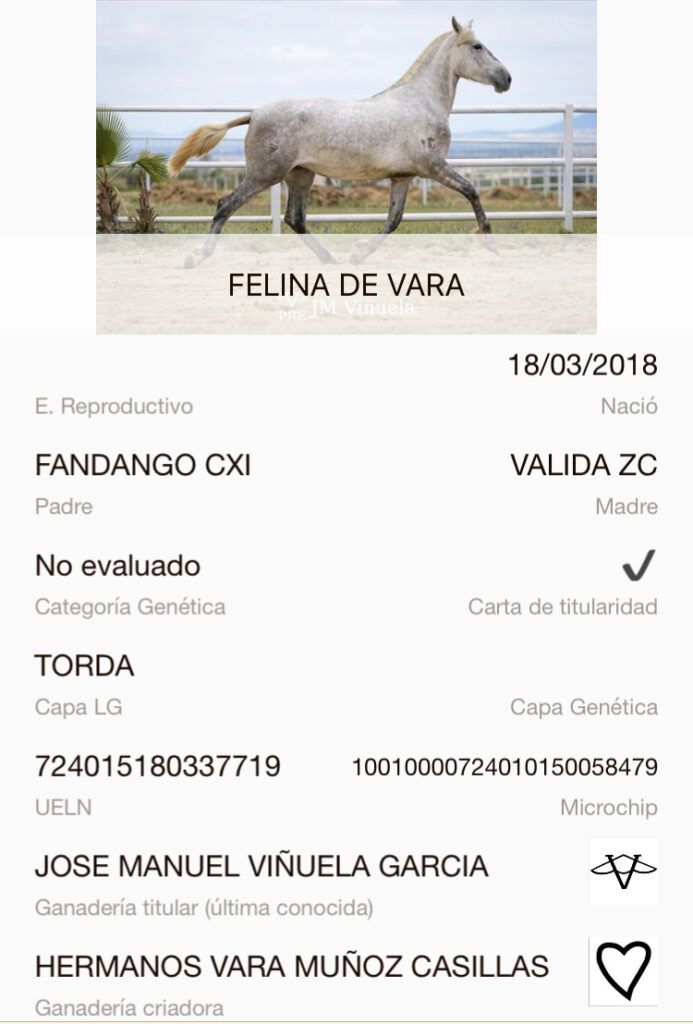 There is a lot to talk about "Felina de Vara" and it's all good.
As soon as you see her, her morphology stands out, very much in keeping with the breed, very classical and incredibly accurate to the standards required of the Purebred Spanish Horse.
Her movements are perfect, very clear and agile, cheerful. She flies over the runway when she is moving and plants and nails when she is standing still.
Felina de Vara" comes from the best lines in the world. We always show you the reduced family tree, but today it is worth to show it in its entirety.
Never before had we seen so many cockades and with so many colors.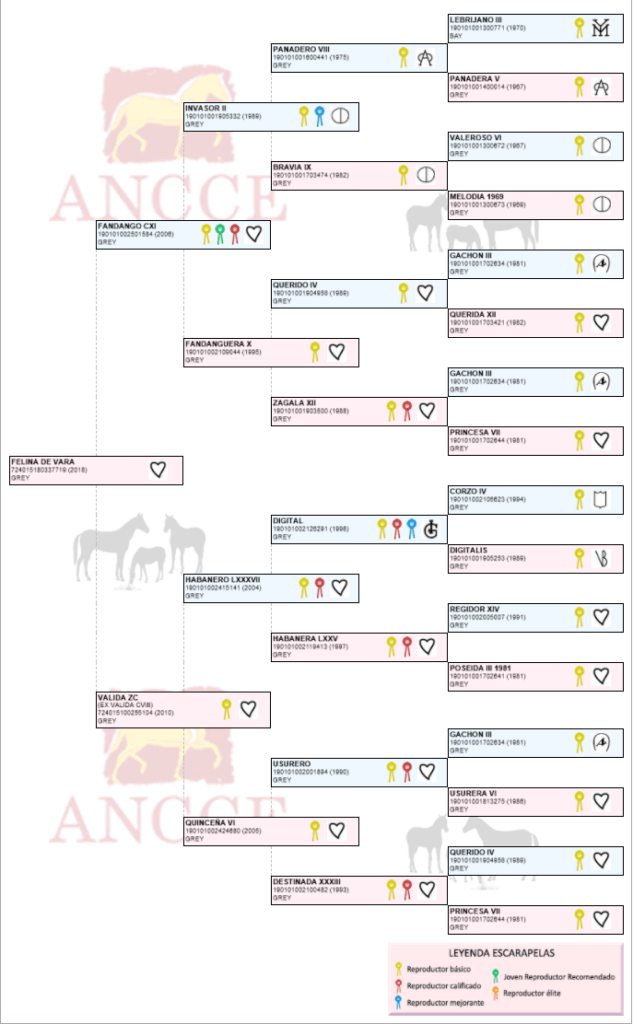 On the maternal side, specimens such as "Habanero LXXXVII" or the incredible "Digital", Champion of Spain and qualified as Breeding Breeder of the breed.
And on the paternal side, two super outstanding horses, his father "Fandango CXI" who has the category of qualified breeder and young recommended breeder and the jewel in the crown, his grandfather the mythical "Invasor II" who was a world reference of the breed and the most awarded PRE in dressage in the world.
With awards such as being the first PRE to get a 10 in an Olympic Games and participating in three, with a silver, an Olympic diploma and a gold. Several times Champion of Spain and the most awarded horse in Spain, with a very long curriculum and awards.
For years he was one of the star horses of the Royal Andalusian School of Equestrian Art in Jerez. We leave you a link (click here) where you will learn more about this historical specimen, grandfather of our "Felina de Vara".
We leave you a video of the participation of "Invasor II" in the 2004 Athens Olympics riding Rafael Soto.
With this background it was impossible to make a bad basket, "Felina de Vara" is heir to all those champions and you can see it as soon as you see her.
We like to serve our customers in a personalized way.
Send 𝗪𝗵𝗮𝘁𝘀𝗔𝗽𝗽 +𝟯𝟰 𝟲𝟯𝟱 𝟲𝟭𝟬 𝟯𝟮𝟭 for any information about specimens or prices, we will be pleased to assist you.
We accept reservations and ship worldwide, we take care of all documentation and arrangements.
🏆🐴 𝗤𝘂𝗮𝗹𝗶𝘁𝘆 𝗮𝗻𝗱 𝗣𝗿𝗼𝗳𝗲𝘀𝘀𝗶𝗼𝗻𝗮𝗹𝗶𝘀𝗺🐴🏆
📸 All images by www.fotografiaequina.es
click here