Luminosa SC II (Sold)
"Luminosa SC II is a very special filly, born on 06/20/2022.
And we say that she is special because of her genotype, Palomino Perla, which makes her the key to multiple options to obtain the desired coat.
It is this genotype that any breeder would like to have in his establishment, as it facilitates the mating process.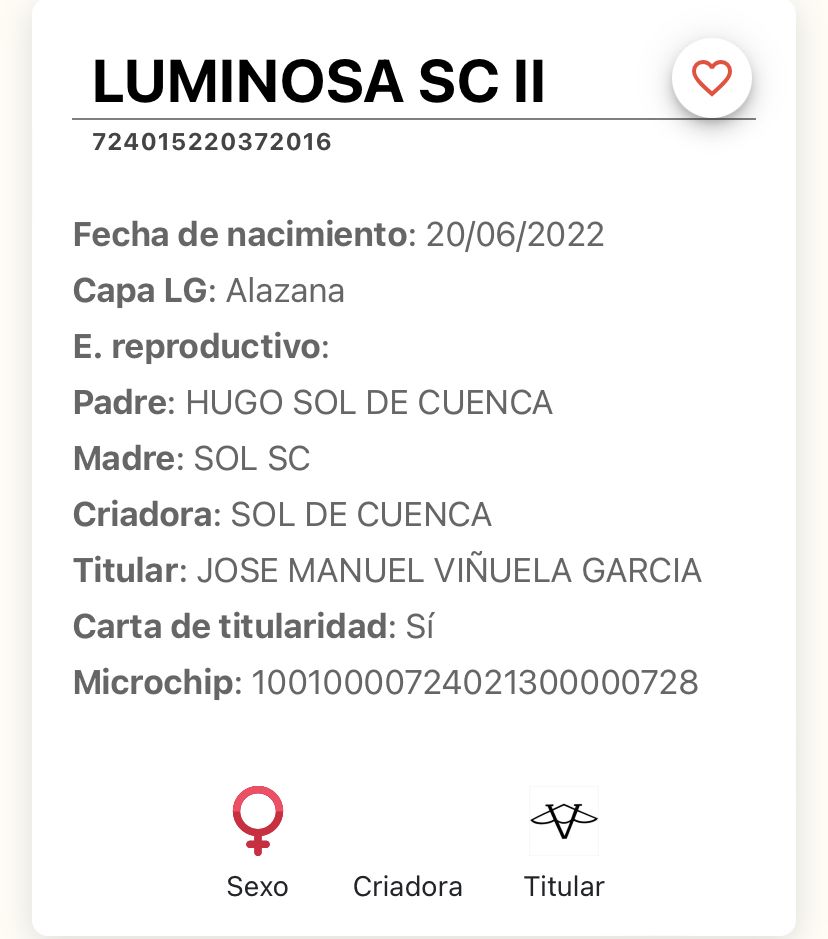 But that's not all, "Luminosa SCII" is a beautiful filly, with a spectacular morphology and movements worthy of the great houses.
.
Luminosa SC II" comes from great and varied stud farms, with examples in her pedigree like "Revoltoso XXIX" from Paco Marti or great examples like "Lastur" or "Excelente SH" impressive stallion of Perlina coat, very well known in California, from our friend and client Miguel Gonzalez from Rancho "Los Alvarez".

"Luminosa SC II" is a great promise and above all a safe bet.
We accept reservations and ship worldwide, we take care of all documentation and arrangements.
We attend exclusively to our clients in a personalized way.
Send 𝗪𝗵𝗮𝘁𝘀𝗔𝗽𝗽 +𝟯𝟰 𝟲𝟯𝟱 𝟲𝟲𝟭𝟬 𝟯𝟮𝟭para any information about specimens or prices, we will be glad to help you.
🏆 🐴 𝐠𝐮𝐚𝐫𝐚𝐧𝐭𝐞𝐞 𝐨𝐟 𝐪𝐮𝐚𝐥𝐢𝐭𝐲, 𝐩𝐫𝐨𝐟𝐞𝐬𝐬𝐢𝐨𝐧𝐚𝐥𝐢𝐬𝐦 𝐚𝐧𝐝 𝐩𝐫𝐞𝐬𝐭𝐢𝐠𝐞. 𝐇𝐮𝐧𝐝𝐫𝐞𝐝𝐬 𝐨𝐟 𝐜𝐮𝐬𝐭𝐨𝐦𝐞𝐫𝐬 𝐚𝐫𝐨𝐮𝐧𝐝 𝐭𝐡𝐞 𝐰𝐨𝐫𝐥𝐝 𝐞𝐧𝐝𝐨𝐫𝐬𝐞 𝐮𝐬 ⭐⭐⭐⭐⭐
📸 All images by www.fotografiaequina.es