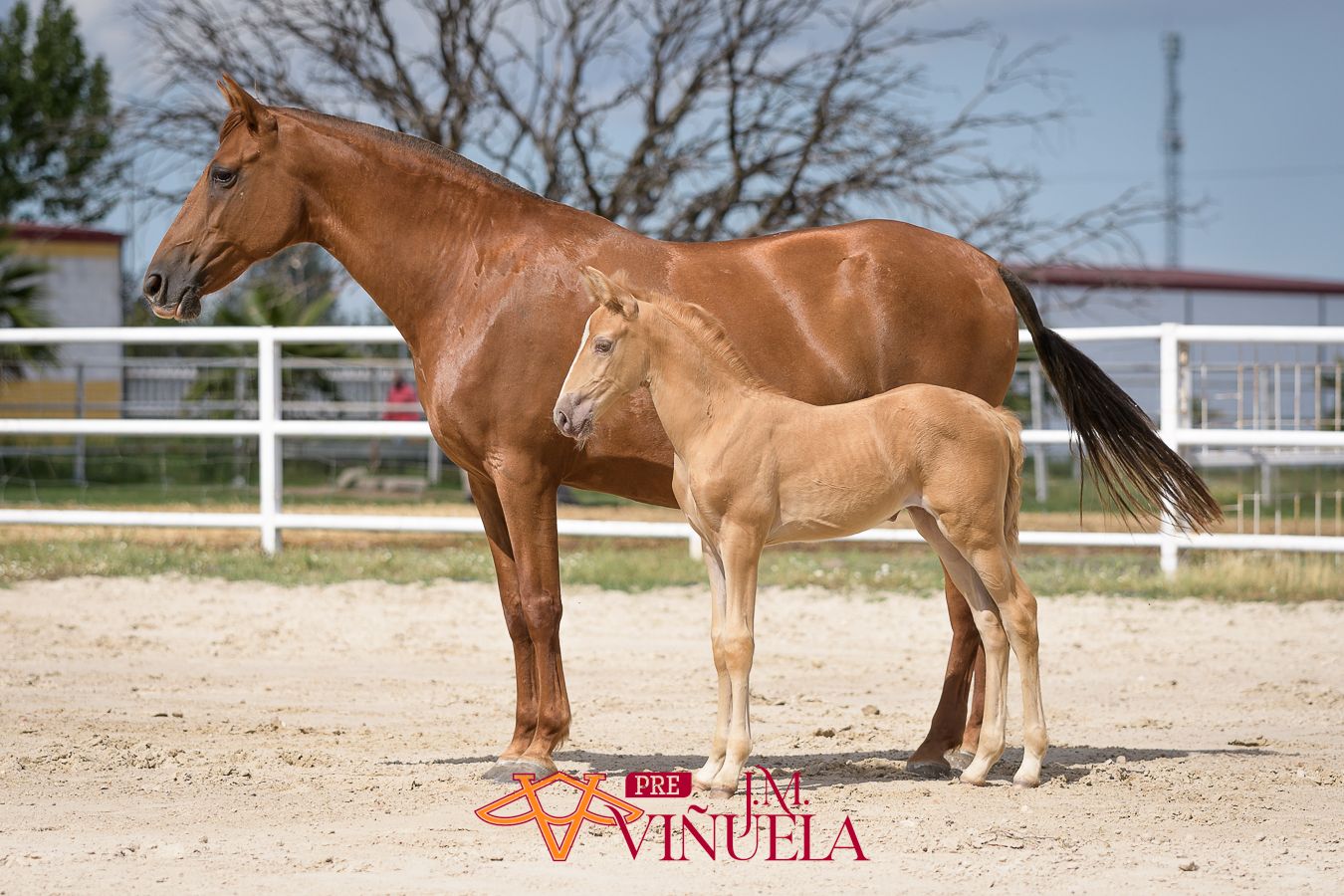 Martinika and her filly 2023
At our prestigious stud, Martinika is one of our most precious jewels. Over the years, we have proudly shared on our website the magnificent foals she has given us, and it is not surprising that these publications are the most visited.
Their offspring are a source of great satisfaction for us as well as for our customers. We cannot express with enough words the exceptional quality of their foals. There is simply no comparison in the market. We are talking about true equine jewels, synonymous with success and guarantee.
This year, Martinika surprises us with an Isabela Alazán filly, one of the most exclusive and desirable coats on the market. She is a true scandal of beauty. And once again, we have made the decision that the best stallion for Martinika will be our outstanding Banana Joe JC.

Customers who have bet on Martinika foals in the past have only words of praise and satisfaction for their acquisitions. Their trust has been rewarded with horses of great quality and excellence.
We invite you to enjoy a complete report dedicated to Martinika and her 2023 filly. Every detail, from their dazzling beauty to their impeccable class and morphology, is a true spectacle. We feel fortunate to have them in our stud and we want to share that emotion with all of you.
Don't miss the opportunity to immerse yourself in the world of Martinika and her stunning filly. Discover the true definition of equine beauty and be captivated by its spectacular beauty.
We accept reservations and ship worldwide, we take care of all the documentation and arrangements.
We attend exclusively to our clients in a personalized way.
Send 𝗪𝗵𝗮𝘁𝘀𝗔𝗽𝗽 +𝟯𝟰 𝟲𝟯𝟱 𝟲𝟲𝟭𝟬 𝟯𝟮𝟭para any information about specimens or prices, we will be glad to help you.
🏆 🐴 𝐠𝐮𝐚𝐫𝐚𝐧𝐭𝐞𝐞 𝐨𝐟 𝐪𝐮𝐚𝐥𝐢𝐭𝐲, 𝐩𝐫𝐨𝐟𝐞𝐬𝐬𝐢𝐨𝐧𝐚𝐥𝐢𝐬𝐦 𝐚𝐧𝐝 𝐩𝐫𝐞𝐬𝐭𝐢𝐠𝐞. 𝐇𝐮𝐧𝐝𝐫𝐞𝐝𝐬 𝐨𝐟 𝐜𝐮𝐬𝐭𝐨𝐦𝐞𝐫𝐬 𝐚𝐫𝐨𝐮𝐧𝐝 𝐭𝐡𝐞 𝐰𝐨𝐫𝐥𝐝 𝐞𝐧𝐝𝐨𝐫𝐬𝐞 𝐮𝐬 ⭐⭐⭐⭐⭐
📸 All images by www.fotografiaequina.es